A corner office building in downtown Lawrence is about to get new life without losing sight of its past.
Consolidated Properties Inc., a Lawrence-based partnership of developer Doug Compton and former Kansas University basketball coach Larry Brown, has a contract to buy a four-level building at the northwest corner of 10th and Massachusetts streets.
Terms of the deal, which is expected to close Oct. 20, were not disclosed.
"I'm attracted to the beauty and the history that the buildings in downtown Lawrence have to offer," Compton said. "It's going to be priceless, to be able to get this building back into its original condition. That's preserving history forever."
The structure, built in 1908, until recently had been owned by and home to Connex International Inc., a communications firm that handles conference calls for other companies looking to save on travel costs.
Connex relocated its Lawrence office a year ago to a larger space at 10 Marketplace, another Compton-owned center, at 1800 E. 23rd St.
Consolidated Properties intends to revamp the downtown building -- with 5,800 square feet on each of three floors and a basement -- into a collection of uses.
First up: retail. Compton said he already had two possible leases for the first floor, which will be set aside for a single user: either a restaurant or a retail shop.
"We just have to choose which one," Compton said. "Our goal is to have a lease signed by closing."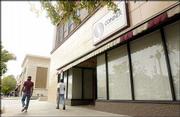 The partnership already has decided what the building should look like. The idea is to bring the exterior's design back to its original 1908 appearance, with large windows on the street level to give the place a feeling of openness.
The current wall of tannish, pink panels that block the first-floor offices from view will be removed, pending review from the Historic Resources Commission.
Plans for the second and third floors are uncertain, Compton said. The floors now are used for storage.
"It's a pretty soft market in the office right now, so maybe it'll be downtown lofts," he said.
Copyright 2018 The Lawrence Journal-World. All rights reserved. This material may not be published, broadcast, rewritten or redistributed. We strive to uphold our values for every story published.