ROCHESTER, N.Y. — Eastman Kodak Co. slashed its generous $1.80 annual dividend to 50 cents a share -- the first cut in over a century -- as it struggles to accelerate growth in digital photography to offset sliding film and camera sales.
The move, announced Thursday, is aimed at reducing spending and boosting investment in digital markets by as much as $3 billion during the next three years. Kodak wants to drive up sales from $12.8 billion last year to $16 billion in 2006 and $20 billion by 2010.
Investors didn't like what they heard, sending Kodak's stock price down $4.84 or 17 percents to $22.15 in trading on the New York Stock Exchange.
The world's biggest photography company is trying to quickly widen its range of digital products in the consumer, commercial and health imaging fields as it shifts away from investing in the chemical-photography businesses that turned it into a 20th-century icon.
"This is probably the biggest turning point in our recent history, certainly a major turning point for a 120-year-old-plus company," chief executive Dan Carp told investors at a meeting in New York.
"The decline that became evident for sure in the second quarter of this year to the historic film-based businesses can be managed," Carp said. "It requires hard work, a different model ... heavily driven on cost reduction and then selected investments for growth."
Kodak said in July that it would eliminate up to 6,000 jobs this year -- shrinking its global payroll to around 62,000 from a peak of 136,500 in 1983. It blames the three-year slump in film sales on a sluggish economy and the rapid rise of filmless digital picture-taking.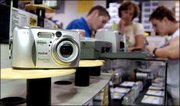 By the end of the year, industry analysts expect digital cameras to begin outselling film cameras for the first time in the United States.
Cutting the dividend by 70 percent would give Kodak extra financial flexibility, said Robert Brust, Kodak's chief financial officer.
"This reallocation of cash will help us achieve our revenue targets while carrying an amount of debt that's appropriate for the goals we intend to pursue," he said.
Kodak's dividend yield -- which was 6.67 percent based on its closing stock price Wednesday -- was the highest among the 30 stocks in the Dow Jones industrial average. Its payout reduction was the first since Kodak introduced a dividend in 1902, spokesman Gerard Meuchner said.
In July, Kodak said it expected to end up with $500 million of free cash this year after dividend payments and debt reduction. But its $500 million buyout that month of PracticeWorks, an Atlanta-based company that provides information technology systems for dental offices, would leave Kodak with no free cash, analysts said.
Copyright 2018 The Associated Press. All rights reserved. This material may not be published, broadcast, rewritten or redistributed. We strive to uphold our values for every story published.