Amazing what a few bungee cords can do to improve Lawrence High's girls tennis team.
In Monday's practice, LHS coach Dick Wedel connected all of his doubles partners together with six-foot long bungee cords, in an attempt to get them to use teamwork and move together on the court.
It paid off. The Lions won two of their three doubles matches to Shawnee Mission East Tuesday at LHS, but fell, 6-3, after claiming just one singles match out of six.
"I think it did help," senior Sydney Lartigue said of Wedel's MacGyver-like approach. "For doubles, it really helped us move together. And it was fun."
Lartigue and her partner, senior Danielle Huff, won their doubles match, 8-6, over SM East's Jessica Tripp and Stephanie Sommers.
Seniors Ashley Woodward and Carrie Jones also won their doubles match, 8-5, over Laura Mahorin and Celene Reynolds.
"We competed," Wedel said. "We seem to have a long way to go and a lot of learning to do. I just hope we don't run out of time before they learn everything."
And Wedel seems intent on doing whatever it takes to deliver the message -- including driving to the hardware store to by some bungee cords.
"I think it worked," Wedel said with a smile.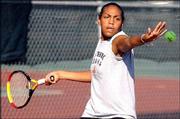 "I didn't see all the teams, but I did see that a couple of them were moving more."
Lartigue was the only singles winner for the Lions, beating Paige Sutherland, 8-2, in the No. 1 showdown.
Lartigue, a senior, was Lawrence's top returner from a year ago, and Wedel has been pleased with her performances this year.
"She's a good player," Wedel said. "I like the way she and Danielle played doubles together. That was a pleasant surprise."
The Lions have a day off before a dual at Manhattan, starting at 3 p.m. Thursday.
Copyright 2018 The Lawrence Journal-World. All rights reserved. This material may not be published, broadcast, rewritten or redistributed. We strive to uphold our values for every story published.