Jim Appleton, a master gardener, describes himself as a "tool junkie." If he can't find a tool that meets his demands, he makes one.
During a meeting of area master gardeners last spring in Sacramento, Calif., Appleton displayed some of his homemade tools, including a watering wand.
"I created it from commercially available parts," says Appleton, who gardens in Rio Linda.
He cannibalized various products for brass valves, nozzles, necks and flexible hose connectors (which stop kinks) to create his idea of the perfect watering wand.
The secret is to borrow from products with threads so you can assemble the parts. One big improvement in his homemade wand was a lever shutoff valve in front of the grip, rather than behind. It allows one-handed operation as you turn it on and off with your thumb.
"Most watering wands have the shutoff lever behind your hand so you have to use both hands (one to hold it, another to shut it off)," says Appleton.
Among his favorite purchased tools are Felco hand pruners. Serious gardeners use a leather belt holster for onboard stowing of hand pruners. Appleton has devised a way to form-fit the holsters to the pruner.
"Soak the leather in rubbing alcohol until it's saturated, then stick your pruner in there good and tight," he says. "Poke and prod the leather to the shape of the pruner and let it sit (pruner too) all night.
The alcohol won't hurt the pruner. The next morning the holster will be formed to the shape of the pruner and it will stay that way."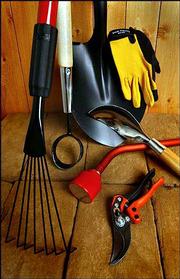 Among his favorite tools are Fiskars gear loppers and the Henningsen Circlehoe. Appleton says Felco, Fiskars, Union-Tool and Corona have been reliable brands. He also prefers some of Gardena's tools.
For specialty tools, he often reaches for a "survival machete" from Ontario Knife Co. to divide perennials and a Smith & Hawken digging fork.
With all tool purchases, look for high quality, he says.
"Whenever you buy a tool, buy the best you can afford."
Here's a list of tips for gardeners looking for the perfect tools:¢ Choose hand tools wisely and you may avoid blisters, reduce back pain and muscle aches, and save prized plants from premature death.¢ Buy tools that suit your specific needs. There may be a half-dozen types of hoes and hand pruners, maybe more, at some nurseries and garden centers.¢ Gardeners develop a fondness for certain specialty tools and accessories, but those featured here should be standard equipment.
Copyright 2018 The Lawrence Journal-World. All rights reserved. This material may not be published, broadcast, rewritten or redistributed. We strive to uphold our values for every story published.