Recordings of radio dispatch communications made public Tuesday in court gave no indication police ever considered aborting a high-speed chase last month that ended with the death of a 56-year-old Lawrence woman.
However, as the chase approached Ninth Street and Lawrence Avenue, someone -- apparently a police supervisor -- came on the radio and asked the pursuing officer:
"What's the nature of what you're chasing for, and what's your speed?" The officer made reference to a speed of 50 mph -- though it was difficult to tell from the tape whether he was referring to his speed or the suspect's -- and said the suspect had been driving in oncoming lanes of traffic on Ninth Street.
The Lawrence Police Department and the city previously denied two open-records requests for access to recordings from the Aug. 26 pursuit, prompting a lawsuit by the Journal-World.
The recordings were heard in open court Tuesday with prosecutors surprising defense attorneys by moving to admit them as evidence in a preliminary hearing for Nam Ouk Cho, 19. Cho is charged with second-degree murder in the death of motorist Judith Vellucci, who was hit by Cho's speeding vehicle as he fled from police.
The hearing also revealed that Cho allegedly told police he sped from Kansas City to Lawrence at up to 100 mph that day because he'd sold drugs to someone in his hometown of Lee's Summit, Mo., and believed he was being followed by undercover police, according to testimony by Detective M.T. Brown.
Douglas County District Judge Robert Fairchild found there was probable cause to try Cho on the charge, and scheduled a jury trial for Dec. 9.
In the hearing, it became clear police lost sight of Cho at least three times during the chase. The officer who started the pursuit, Adam Heffley, testified that his patrol car couldn't keep up with Cho's modified Chevrolet Cavalier.
"I couldn't maintain pace with him," Heffley said.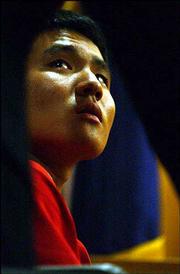 The pursuit began about 6:11 p.m. after a report of a "traffic hazard in progress" on Massachusetts Street, according to the dispatch tape. The pursuit, based on Heffley's testimony and dispatch tape, unfolded as follows:
Heffley clocked Cho driving 50 mph in a 30 mph zone as he neared a green light on westbound Ninth Street at Maine Street. Pulling out behind Cho at Ninth and Arkansas streets, Heffley turned on his emergency lights.
Cho passed a group of cars on Ninth Street at Emery Road by driving around them in the right-hand lane, which eventually narrows and ends. As Cho sped along the hilly road toward Iowa Street, he passed more than one vehicle by swerving into the oncoming lane of traffic.
'Losing distance'
Cho pulled into the right-hand turn lane at Iowa Street, but -- with the traffic signal green -- drove straight through the intersection and continued westbound on Ninth Street. He passed another vehicle or two as the pursuit drew nearer to Sunset Hill School, at Ninth Street and Schwarz Road.
"Vehicles were pulling to the side, and he and I were straddling the middle line at that point," Heffley said. Another police car had joined the pursuit close to Madeline Lane.
Cho slowed his car to about 20 mph or 30 mph when he approached Lawrence Avenue, drove into the eastbound lane and ran a stop sign. He accelerated up the hill toward a curve where Ninth Street turns into Eighth Street.
Cho signaled for a left turn onto Kasold Drive and slowed but didn't stop at a stop sign. Both pursuer and pursued headed south on Kasold.
"I followed behind it but was losing distance at that point," Heffley said.
He said Cho sped through a four-way stop at Kasold Drive and Harvard Road. Heffley estimated his own speed at 50 mph to 60 mph as he passed Oxford Court.
"Were you catching the suspect vehicle?" prosecutor Dan Dunbar asked.
"No," Heffley said.
Chase's fatal end
Cho went through a red light at Kasold and 15th Street by driving into the left-hand turn lane and fishtailed as he cut back into a southbound lane. Heffley tried to catch up, but Cho was putting more distance between himself and police.
Heffley said he lost sight of Cho when the speeder's car crested a hill in the 1800 or 1900 block of Kasold Drive. Cho then maneuvered around spikes police had placed in the road to stop him at 22nd Street and Kasold.
Heffley said he didn't know whether the light at Clinton Parkway and Kasold was green or red when Cho drove through it because he had lost sight of him momentarily. As Heffley drove near 24th Street and Kasold Drive, he called out his speed to dispatchers at 80 mph, but said he was losing distance on Cho -- who told officers after his arrest that he drove at speeds higher than 100 mph, according to Brown's testimony.
Heffley testified that when he was in the vicinity of the 2800 block of 31st Street -- after a sharp curve where Kasold turns into 31st Street -- he began to slow to about 60 mph because he knew he was coming up on busy 31st Street.
That's when he saw Cho's car stopped in the road with the front end damaged, having just slammed into Vellucci's car.
Officers then called out a "10-47" -- or a traffic accident -- with "the suspect vehicle involved."
"It's going to be a code 2," police radio jargon for white female, "in another car hit," the recording said.
Copyright 2018 The Lawrence Journal-World. All rights reserved. This material may not be published, broadcast, rewritten or redistributed. We strive to uphold our values for every story published.