An admitted Jayhawk gimmick and a longtime community nurse were honored Tuesday by the Lawrence Board of Realtors.
The Lawrence Convention and Visitors Bureau's Jayhawks on Parade program received the Realtors' River City Architectural Enhancement Award, and Marceil Lauppe, former executive director of the Douglas County Visiting Nurses Assn., received the River City Humanitarian Award.
Judy Billings, director of the Convention and Visitors Bureau, said the bureau decided to organize Jayhawks on Parade because it thought the event would be a unique way to attract former Kansas University students and other Jayhawk faithful to the city.
"This pretty simply was a gimmick," Billings said during a ceremony at Lawrence Country Club. "Other people had tried it, but nobody had tried it with a Jayhawk and no other city could try it with a Jayhawk."
The results of the show, which put 30 Jayhawk sculptures on display around town, had exceeded expectations, Billings said. The show began in April and will end in October, though no exact end date has been determined.
"It definitely has created a new reason for people to come to town," Billings said. "It seems like you can never drive by one without seeing someone taking a picture."
Lauppe received honors for her 33 years of service with Douglas County Visiting Nurses Assn. She was part of the association's first staff in 1969 and retired as executive director in May 2002. The award also cited her significant volunteer work in United Way of Douglas County, Health Care Access, Lawrence Community Theatre and church.
"I'm very honored by this award but also puzzled," Lauppe said. "I'm puzzled because Visiting Nurses was just a great opportunity for me as a nurse. I was just doing my job. And the volunteer work I do is really for me. It gets me around people and stops my brain from going to mush."
Bev Hill, chairwoman of the board's community relations committee, said this was the fifth year for the River City Awards. She said the Realtors decided to start the program to honor people who made the community a better place to live.
About 110 people attended Tuesday's event.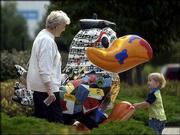 Copyright 2018 The Lawrence Journal-World. All rights reserved. This material may not be published, broadcast, rewritten or redistributed. We strive to uphold our values for every story published.