Dustin loves the roar of a crowd.
That's why the 7-year-old Shetland sheepdog from Lawrence will be in his element Oct. 4 in St. Louis when he competes in the Purina Dog Chow Incredible Dog Challenge world championship.
"The crowds are so loud, and he gets more amped the louder they get," said Dustin's owner and trainer, Joan Meyer. "He loves to be at the center of attention."
Dustin, with Meyer's coaching, has been competing in dog agility contests for most of his life.
"He loves to work," Meyer said. "He wants to work. Even when we're in the hotel room he's always trying new things."
Two years ago in the Purina challenge, Dustin earned a silver medal for second place in the agility category. He competes with dogs in the 16-inch height division.
"This year we're going for the gold," Meyer said.
There were dog teams from 37 countries competing in the championship two years ago. This year there will be 39 countries represented.
Meyer, working from an arena at her rural Lawrence horse ranch, trains dogs and their owners on how to work as a team in agility events. The dogs, guided by commands from their owners, go through a course that consists of obstacles such as tunnels, ramps and bars to jump over.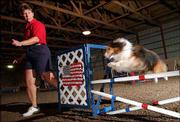 In actual competition, the obstacle course generally covers 183 yards. Dustin usually completes the course in 42 seconds, Meyer said. She moves along with him.
"Of course, I take the shortcuts -- I can't run five yards a second," she said.
There are strategies involved, Meyer said. The owner needs to know how to get the dog to make its own tight turns or get out of a tunnel faster, Meyer said. The dog also needs to understand his partner's body language if the crowd makes it impossible to hear, she said.
Shetlands, sometimes called Shelties, are especially good at agility competitions, Meyer said.
"They are very agile and intelligent," she said. "They tend to work fast."
Dustin's rewards are food treats, no matter how well he does during training or in competition. If a dog doesn't do well, it's usually the human partner who is at fault, Meyer said.
"He gets lots of treats and lots of love -- that's all he wants," Meyer said.
Copyright 2018 The Lawrence Journal-World. All rights reserved. This material may not be published, broadcast, rewritten or redistributed. We strive to uphold our values for every story published.