Most of Kansas University's Open House on Saturday will focus on what's new at KU.
But at Murphy Hall, the focus will be on what's old.
University Theatre will hold its second costume sale and garage sale from 8 a.m. to 3 p.m.
"A lot of it is caps and wigs and junk that's so specialized we can't use it again," said Charla Jenkins, public relations director. "If you need something for Halloween, this is your place."
This is the third year for KU's annual Open House, which will run from 10 a.m. to 2 p.m. Larger crowds are expected on Mount Oread on Saturday than in the past two years, in part, because this year's event coincides with a home football game and Family Weekend, otherwise known as Parents' Day.
KU plays Jacksonville State at 6 p.m. Saturday.
Myriad activities and booths will be available on campus Saturday -- everything from geography and astronomy demonstrations to performances by the KU Spirit Squad. Artists of the Jayhawks on Parade sculptures on campus will be on hand to discuss their works.
Margey Frederick, KU's director of visitor services, said a special emphasis would be on getting younger Lawrence residents to visit KU. She delivered about 5,400 brochures this week that will be distributed to Lawrence schoolchildren.
"We really target trying to get younger children to come on campus and be thinking ahead about higher education instead of waiting until their senior year of high school," Frederick said.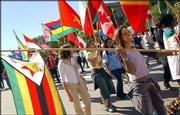 For those more interested in information than in simply having fun, admissions recruiters and representatives from KU organizations will be on hand to answer questions.
"It'll be a busy place," Frederick said. "We want people to feel comfortable on campus and appreciate the wide diversity of offerings we have."
As at University Theatre, the focus of the Natural History Museum will be on the old. The museum this year is celebrating the 100th anniversary of its home, Dyche Hall, and will dust off some of the original specimens from the museum on Saturday for display.
"These are mostly bird and mammal collections, but there are also fishes," said Brad Kemp, the museum's assistant director. "These are things that are mostly in jars. It helps people understand that we have these enormous research collections."
Kemp said he expected heavy foot traffic through the museum on Saturday.
"I'm a big supporter of Open House," he said. "This is a good way to get the word out about what's happening on campus."
Copyright 2018 The Lawrence Journal-World. All rights reserved. This material may not be published, broadcast, rewritten or redistributed. We strive to uphold our values for every story published.