KDHE leader promotes elder health awareness
Tuesday was "Take a Loved One to the Doctor Day," so Kansas Department of Health and Environment Secretary Rod Bremby took his mother to Mount Oread Family Practice, 3510 Clinton Parkway, an affiliate of Lawrence Memorial Hospital.
The former Lawrence assistant city manager was trying to raise awareness of the annual initiative aimed at helping the elderly stay healthy.
"Many people of this state have trouble accessing medical care. The best prevention of illness is going to the doctor before anything happens," Bremby said.
Health officials said Take a Loved One to the Doctor Day would be the third Tuesday of each September.
6Productions
6News to air early
Sunflower Broadband Channel "6News at 6" will air at 5:30 tonight due to the start time of the Kansas City Royals game. Royals Sports Television Network coverage of the Royals-Cleveland Indians game begins at 6 p.m. on Channel 6.
Outbreak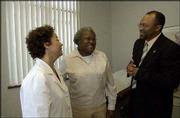 Health Department counts new crypto case
The number of cryptosporidium cases in Lawrence grew to 83 Tuesday, one more than the day before.
Lawrence-Douglas County Health Department Director Kay Kent said she did not know whether the small increase means the infection is starting to peter out.
"It's too early to say," she said.
She said authorities were concentrating their attention on the city's day-care facilities, which are connected to the vast majority of the cases. The Health Department has recommended day cares take greater-than-normal hygiene steps.
6Productions
Artist, photographer on 'River City Weekly'
Water-colorist and mask-maker Delores Corcoran takes us into her studio on "River City Weekly." Corcoran, of the Caddo tribe, shares some of her work that will be appearing in the 15th annual Lawrence Indian Arts Show, which runs through Oct. 13.
Then it's an encore of photographs from the front lines in Europe during World War II with photographer Glenn Kappelman, who shows clips from the film "Through My Sights: A Gunner's View of WWII," which was produced by Linda "Sam" Haskins. Kappelman has recently published a book by the same name. Both the book and the film are available through the Journal-World by phone at 843-1000, in person at 609 N.H. or online at www.store.ljworld.com.
"Better Health" features Marlaine Malone, outreach coordinator for Senior Care Services at Lawrence Memorial Hospital.
"River City Weekly," with host Greg Hurd, premieres at 6:30 p.m. Wednesdays with encore presentations at 7:30 weeknights, 8:30 weekday mornings and 9 a.m. Saturdays.
Copyright 2017 The Lawrence Journal-World. All rights reserved. This material may not be published, broadcast, rewritten or redistributed. We strive to uphold our values for every story published.