Columbia, Mo. — When Damien Nash transferred to Missouri it looked like the Tigers would go to a running-back-by-committee system. Instead, Zack Abron has taken control of playing time by doing things he's not known for.
Abron, a senior, had six catches for 46 yards last season. In Saturday's 37-0 win over Eastern Illinois, he caught six passes for 32 yards. Already this season, Abron has 12 catches -- four more than his previous career total -- for No. 23 Missouri (3-0). The Tigers hope to go 4-0 for the first time in 22 years Saturday when they play host to Middle Tennessee State.
Much of the pass-catching improvement can be attributed to the loss of Justin Gage. Without last season's standout wide receiver, the offense is running more tailback screens. Still, coach Gary Pinkel a year ago would have doubted Abron would help fill the void.
"When we first got here, his hands were bad, and I'm being nice," Pinkel said. "Boy, he's worked hard and is doing a great job. He's been playing catch, running routes and becoming a complete player. I think Zack is turning more into a total back, as far as blocking, catching and all those things."
When Nash committed to Missouri after playing at Coffeyville Community College, the consensus was he would get plenty of playing time because of his speed and ability to catch the ball.
But Abron has earned the bulk of the work so far. He also has earned the respect of his teammates.
"Zack has been one of those kind of guys that works hard," senior lineman Rob Droege said. "In the beginning (coaches) said, 'Hey you need to lose a little weight,' and he did that and then ran so much better. Then it was, 'You need to learn how to catch.' Well he went and caught passes every day.
"He's completely changed from when he got here. Before, a lot of it was about Zack. Now everything's about his team."
Abron, a three-year starter, led the team with 783 rushing yards in 2001 and with 17 touchdowns last season. He quietly has moved up on Missouri career records -- touchdowns, scoring and rushing yards.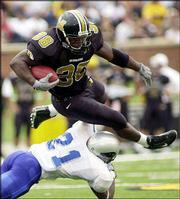 Abron needs six touchdowns to pass Corby Jones' record of 33. With 198 total points, Abron is 31 behind Jones.
And his 91-yard performance against Eastern Illinois put him sixth in career rushing yards and 754 yards away from the top of the list. He would have to average 83.8 yards per game through the rest of the regular season to take over Brock Olivo's record.
"I know about the records and I know I'm close," Abron said.
Copyright 2018 The Associated Press. All rights reserved. This material may not be published, broadcast, rewritten or redistributed. We strive to uphold our values for every story published.