Denver — Winkie Dink, an 8-year-old wolf, was the first resident at the Denver Zoo to die last month. Then, Tracey, an 11-year-old reindeer, expired, followed by an unnamed goose and swan and Toola, a baby camel.
All five animals had West Nile virus.
Fifty miles away, Penny and Mark Miller were stunned when two alpacas collapsed and couldn't get up at their ranch in Loveland. A week later, a third alpaca went from running in the pasture to stumbling aimlessly, her head swinging from side to side, in the course of a morning. Within a day, she too was dead, the latest to be struck down by the viral disease.
This is the emerging reality as West Nile marches across the continental United States and into the Caribbean and Mexico: More mammals and birds are sick or dying as the virus reaches deeper into the animal kingdom.
Out of control
Hundreds of thousands of animals will die this year, scientists say, and little can be done to protect them. Most at risk are endangered or threatened species where the numbers of animals are limited to begin with and even a few deaths could make a difference, such as California condors or whooping cranes.
"As the virus spreads into new regions, more and more species are being infected," says Nicholas Komar, a research biologist and West Nile expert with the Center for Disease Control's mosquito-borne diseases branch, based in Fort Collins.
"The more we look for the impact on (birds and animals), the more we are finding."
Nationally, 21 people have succumbed to West Nile so far this year, out of 1,442 cases reported by late August. The season is far from over -- September traditionally is the worst month in terms of people.
However frightening West Nile may be to people, its devastation on birds and animals is far worse.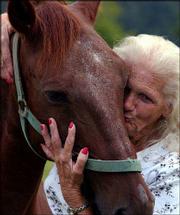 Hard on horses
One vulnerable target are America's wild horses, known to be susceptible to West Nile, researchers note. Last year alone, the virus infected more than 15,000 horses across the U.S., and the death rate for sick horses tops 30 percent.
An equine vaccine is available, but most of the 37,000 wild horses overseen by the U.S. Bureau of Land Management will not get injections, said Don Glenn, wild horse and burro program specialist for the bureau in Washington.
Rounding up the horses from wild lands in Wyoming, Nevada and other western states and giving them the shots would be too expensive, given the risk of infection, Glenn said.
Some researchers say the initial wildlife damage from West Nile is similar to the devastation of smallpox on American Indian populations when Europeans first came America, because wildlife is unprotected by previous exposures. Survivors eventually will develop antibodies and species will adapt, they predict.
Copyright 2018 The Lawrence Journal-World. All rights reserved. This material may not be published, broadcast, rewritten or redistributed. We strive to uphold our values for every story published.