Washington — A majority of Americans disapprove of President Bush's request to Congress for an additional $87 billion to fund military and reconstruction efforts in Iraq and Afghanistan over the next year, amid growing doubts about the administration's policies at home and abroad, according to a new Washington Post-ABC News poll.
Six in 10 Americans said they did not support Bush's proposal, which the president first announced Sept. 7 in his nationally televised address. That marks the most significant public rejection of a Bush initiative on national security or terrorism since the attacks of Sept. 11, 2001.
In a second rebuff to the administration, more Americans said if Congress decided to approve the additional money, lawmakers should roll back the president's tax cuts to pay for the increased spending, rather than add to the federal budget deficit or cut government spending.
The survey findings send a clear signal that many Americans are unwilling to give the administration a blank check on peacekeeping efforts in Iraq, despite continued strong backing for Bush's decision to go to war and public support for staying there to help stabilize and rebuild that nation.
The president's overall job approval rating remains stable and relatively strong, a reflection of broad confidence in his leadership despite increasing concerns about his policies. The poll showed 58 percent approve of the job he is doing as president while 40 percent disapproved.
Bush's approval ratings on the war against terrorism and homeland security also continue to remain strong.
But on many domestic issues he has fallen to the lowest point of his presidency, from his handling of the economy and health care to the federal budget.
Declining approval ratings on important issues suggest that the president may be vulnerable in his bid for re-election next year. Matched against a generic Democrat, the poll found Bush at 49 percent and a Democratic nominee at 44 percent.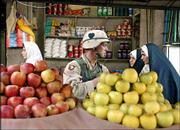 Copyright 2018 The Lawrence Journal-World. All rights reserved. This material may not be published, broadcast, rewritten or redistributed. We strive to uphold our values for every story published.