San Francisco — Museum-goers in San Francisco will get an uncensored look at Alaska wilderness photos that ignited a minor uproar this spring in the nation's capital.
A new exhibit, "Arctic National Wildlife Refuge: Seasons of Life and Land," features 49 photos of the Arctic National Wildlife Refuge -- 19 million acres of pristine wilderness at the center of a fierce debate between environmentalists and the Bush administration.
President Bush and the oil industry want to allow oil drilling on 1.5 million acres of the refuge's coastal plain, where they think oil is abundant. Environmental groups say drilling will damage one of the country's largest tracts of untouched wilderness.
Freelance photographer Subhankar Banerjee's photos were displayed over the past four months at the Smithsonian's National Museum of Natural History in Washington, D.C. But drilling opponents say the exhibit was moved to a basement hallway and stripped of its original captions for political reasons.
"This is an extremely faraway place that most people will never get a chance to see," Banerjee said Friday at a news conference. "I hope this will help the American public make an informed decision."
Banerjee's photos -- with the captions he wrote -- went on display Saturday at the California Academy of Sciences in Golden Gate Park.
"We want people to know this is a truly rich and unique protected resource for wildlife," said Terrence Gosliner, the academy's provost. "If there is drilling, that wildlife will be impacted."
The exhibit opens as federal lawmakers in Washington begin a new round of negotiations on whether to allow oil drilling in the refuge as part of an energy bill.
In 2000, Banerjee, 35, quit his job at Boeing in Seattle, cashed in his savings and headed to Alaska to document the refuge's land, wildlife and indigenous people.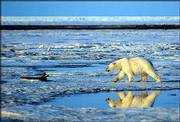 A trained physicist from Calcutta, India, he spent 14 months over two years photographing the Arctic refuge, braving subzero temperatures and blizzards.
Accompanied by an Inupiat guide, he traveled 4,000 miles on foot, raft and snowmobile and lived with native Gwich'in Athabascan and Inupiat families when he wasn't traveling.
Banerjee's photos document the refuge during all four seasons, depicting a region teeming with musk oxen, polar bears and migrating caribou.
"He tells the continuing saga of how this area changes over time," Gosliner said.
Banerjee's color photos include panoramic shots of floating icebergs and feeding snow geese as well as close-ups of a Buff-breasted Sandpiper spreading its wings and a lousewort blossom emerging from the ice.
Copyright 2018 The Associated Press. All rights reserved. This material may not be published, broadcast, rewritten or redistributed. We strive to uphold our values for every story published.