Washington — Manufactured homes are a popular choice for low-income families, but new regulations from mortgage giant Fannie Mae could price some of those would-be homeowners out of the market.
Concerned about rising loan delinquencies and foreclosures, Fannie Mae has begun requiring a 10 percent down payment for 30-year mortgages on such homes, plus a fee of one-half of 1 percent of the loan amount.
For people who cannot afford 10 percent, Fannie Mae has introduced a 20-year loan requiring a 5 percent down payment. However, monthly payments are higher.
Manufactured homes are built in factories and assembled on building sites. They include mobile homes, though many manufactured dwellings have characteristics found on traditional single-family homes -- pitched roofs, decks and porches.
The Department of Housing and Urban Development says mobile or manufactured homes account for one-third of all new single-family homes. There are about 7.2 million such homes, many in rural areas and the South.
The average sale price is roughly $49,000, compared to about $164,000 for a traditional single-family home, according to the Manufactured Housing Institute, an industry trade group.
Rep. Barney Frank, D-Mass., has sent numerous letters to Fannie Mae chief executive officer Franklin Raines asking him to withdraw the down payment guidelines, which went into effect Aug. 24.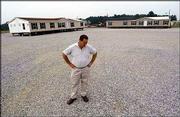 "To make it harder for people to buy homes in this way is a great mistake," said Frank, ranking member of the House Financial Services Committee.
According to Fannie Mae's Deborah Tretler, the changes were prompted by a spike in delinquencies and foreclosures on manufactured home loans.
"We don't serve borrowers well when it is easy for a borrower to get into a home under very flexible terms, only to have them lose their home, their credit ruined and their homeownership dreams turned into a nightmare," said Tretler, vice president of single-family homes.
It's also another problem for a struggling industry. The increase in loan defaults has led to a glut in relatively new, repossessed homes, which in turn has hurt new manufactured home sales.
David Burnett, owner of Deep South Home Gallery in Montgomery, Ala., said seven of his area's 13 manufactured home dealers have gone out of business in the past two years.
"It's putting another nail in the coffin," Burnett said. "Business was slow then, and now I expect it to be slower."
Copyright 2018 The Associated Press. All rights reserved. This material may not be published, broadcast, rewritten or redistributed. We strive to uphold our values for every story published.