Forget the early-season jitters. Free State High senior Lacey Baxter is already in late-season form.
Baxter tied for first place in all-around Thursday at the Free State gymnastics quadrangular, highlighted by a spectacular performance on beam that she hopes gets even sharper as the season progresses.
If it does, a state title is certainly within reach. She placed sixth at state last year, with a score of 9.150.
"Beam's always been my strong event," said Baxter, whose 9.3 score on the beam Thursday easily earned her first place. "I'll keep perfecting it, but that's basically the routine I've got."
Baxter also used a floor routine with the "Mission Impossible" theme song to place first with a 9.1 score. She earned 34.85 all-around points, tying her for first with Shawnee Mission Northwest's Erica Mings.
Baxter said a state title in the beam would be super, but it would depend on many factors.
"In gymnastics, if you're on, you're on, and if you're off, you're off," Baxter said. "You really have to stay focused, and sometimes you just have to take what you can get."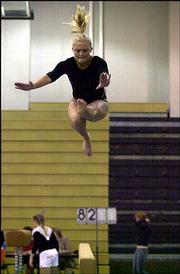 As a team, the Firebirds placed second with 96.65 points, and Lawrence High placed third with 94.75 points. Shawnee Mission Northwest, last year's state runner-ups, won with 102.45 points.
"For the first meet, they did OK," said Kathy Johnson, who coaches both LHS and FSHS. "We had a few funnies, but they got all the nerves out, and they had fun, so that's good."
For LHS, Meredith West placed fifth in the all-around, and Chelsey Ornburn placed sixth. A squad with just four competitors, the Lions held their own against the likes of Shawnee Mission Northwest and Shawnee Mission East, which both brought junior varsity squads to compete.
If the Lions and Firebirds can avoid injury, the lack of participants may not be as big of a problem as one would think.
Both the Firebirds and the Lions will compete in another quadrangular hosted by Free State next Wednesday. This time, Olathe South and Olathe North will participate with the two city schools.
"I think they did OK," Johnson said. "Obviously there are some things to work on, but it was a good start."
Copyright 2018 The Lawrence Journal-World. All rights reserved. This material may not be published, broadcast, rewritten or redistributed. We strive to uphold our values for every story published.