Beirut, Lebanon — The first video image of Osama bin Laden in nearly two years was broadcast on Al-Jazeera TV Wednesday, the eve of the second anniversary of the Sept. 11 attacks. The al-Qaida leader was shown walking through rocky terrain with his top aide, both carrying assault rifles.
In an eight-minute audiotape accompanying the video footage, a speaker identified as bin Laden praises the "great damage to the enemy" on Sept. 11 and mentions five hijackers by name. On a second tape, a voice said to be that of chief deputy Ayman al-Zawahiri threatens more attacks on Americans and calls on Iraqi guerrillas to "bury" U.S. troops.
According to terrorism experts, such tapes reassure al-Qaida sympathizers that the terror network is still a force and its leaders still active and in seeming good health. A tape showing bin Laden would be crucial to that effort and the timing -- a day before the anniversary of the Sept. 11 attacks, blamed on al-Qaida -- highly symbolic.
Al-Jazeera said the tapes were produced in late April or early May, but the Arab satellite channel did not say how or when it obtained them. The backdrop in the video resembled the border regions between Afghanistan and Pakistan, where U.S. officials believe bin Laden is hiding out.
Messages from al-Qaida leaders are sometimes viewed as presaging an attack.
"This is another reminder that they continue to plot to attack us and to attack freedom," Sean McCormack, a spokesman for the National Security Council, said Wednesday.
The Department of Homeland Security previously said it did not plan to raise the national terror threat level above its current position at yellow, the third highest of five color-coded levels. The emergence of the tape did not initially appear to alter that course.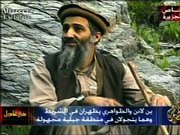 The voice identified as bin Laden praises the Sept. 11 hijackers.
"Those men caused great damage to the enemy and disturbed their plans," the speaker says, calling them true believers who should become an ideal for other believers.
He makes no direct threatening remarks, but the voice said to be al-Zawahiri threatens more attacks on Americans.
"What you saw until now are only the first skirmishes," al-Zawahiri allegedly says in a 12-minute tape. "The true epic has not begun."
The video image of bin Laden appeared to be the first since he was shown at a dinner with associates on Nov. 9, 2001, in Afghanistan. That tape was made public a month later.
Copyright 2018 The Associated Press. All rights reserved. This material may not be published, broadcast, rewritten or redistributed. We strive to uphold our values for every story published.