If you've never seen a butterfly lay eggs, here's your chance.
The people who run the Monarch Watch program are putting on an open house Saturday at Foley Hall on Kansas University's west campus that features lots of egg-laying monarchs.
"The chances of your seeing a monarch lay eggs is right at 100 percent," said Orley "Chip" Taylor, a professor of biological sciences at KU and Monarch Watch director.
"We've got some big cages set up inside so you can see them, but they're laying eggs on the milkweed outside the building, too," he said. "If you come by, we'll show you."
There's also a milkweed-filled, open-air tent designed to let children search for caterpillars.
"There are a couple hundred caterpillars in there," Taylor said.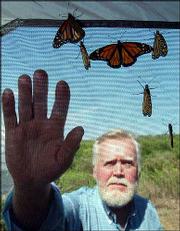 Another tent will let people see how they can help tag monarchs during this year's tagging day at Baker Wetlands from 7:30 a.m. to 11:30 a.m. Sept. 13. Now in its 12th year, tagging day is a project of the Jayhawk Audubon Society and Monarch Watch.
"Last year, it rained and only about 150 people turned out," Taylor said. "The year before -- right after 9-11 -- we had 350 people, so we're hoping for a good turnout this year."
Based at KU, Monarch Watch is a conservation program dedicated to educating the public about monarchs and gaining a better understanding of the factors that affect monarchs' well-being.
Tagged butterflies help scientists track the monarchs' spring and fall migrations.
In Lawrence, this year's fall migration is expected to peak Tuesday and Wednesday, Taylor said.
Monarchs -- some 500 million in a good year -- spend the winter in the mountainous Oyamel Fir forests of central Mexico.
Copyright 2017 The Lawrence Journal-World. All rights reserved. This material may not be published, broadcast, rewritten or redistributed. We strive to uphold our values for every story published.