Topeka — Though business has once again become profitable, the top executive at Kansas' largest health insurer said Thursday the company must reverse a decline in the number of people it covers.
Blue Cross-Blue Shield of Kansas plans to concentrate this year and in 2004 on increasing enrollment in its health plans and offering new plans to attract potential policyholders, said Michael Mattox, who became the company's chief executive officer in June.
Mattox acknowledged the company had already improved its financial condition, in part by increasing premiums more than other firms, and still expected to eliminate about 100 vacant jobs from its 1,900-person work force by next year.
Blue Cross officials are pursuing their strategy in the wake of last month's Kansas Supreme Court decision blocking the company's $190 million sale to Anthem Insurance Companies Inc., of Indianapolis.
Blue Cross officials argued the sale would allow the company to tap new capital and expand its enrollments, but they are no longer pursing a deal with Anthem or any other company.
Mattox said the goal of increasing enrollments in its health plans predated the Supreme Court decision. While competition from national firms accounted for some declines, data also suggested some Kansans were dropping coverage for family members or coverage altogether, Mattox said.
Enrollment in Blue Cross plans reached more than 900,000 in 1975. As of July 31, it was 636,888, down 12 percent from 723,409 in 2001. The company's coverage area is limited to Kansas, outside of Johnson and Wyandotte counties.
Mattox acknowledged that premium increases helped the company reverse underwriting losses, which amounted to more than $96 million combined in 2000 and 2001. In 2002, it showed gains of $8 million from $1.3 billion in premiums. This year, through July, the company reported underwriting gains of $31.5 million.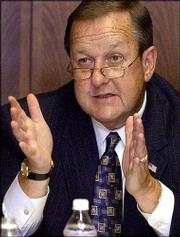 Copyright 2018 The Associated Press. All rights reserved. This material may not be published, broadcast, rewritten or redistributed. We strive to uphold our values for every story published.