Labor Day is supposed to be for recognizing the accomplishments of the nation's labor movement, things like minimum wage, eight-hour workdays, overtime pay and taking care of workers hurt on the job.
But for Fred Thorne, it's become as much a day for mourning as for celebrating.
"Labor is alive and well -- I really believe that," he said. "But there's a lot going on that's just not right. Things aren't getting better."
Thorne is president of the local chapter of the Paper Allied-Industrial Chemical and Energy International Union, the body that represented workers at the now-closed Farmland Industries Inc. fertilizer plant in Lawrence.
The Kansas City, Mo.-based agribusiness giant last year filed for bankruptcy protection, two weeks after closing the plant and laying off 150 union and nonunion workers.
Most of the plant's nonunion workers got severance packages. Those in the union did not.
Unions on decline
Thorne, who labored 27 1/2 years at the plant, says that's not fair. As union president, he's been waging a legal battle aimed at forcing Farmland Industries to come up with similar packages for its union members.
Farmland Industries officials, in turn, have argued their obligations to its union workers were spelled out in the company's contract with the union. The contract, they say, doesn't require severance packages.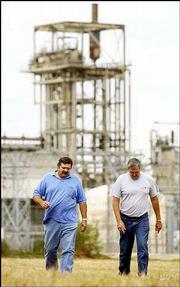 "It's all tied up in the courts now," Thorne said. "It's a shame -- all the stuff that went on."
Though the union's lawsuit was filed on behalf of all its then-members, Thorne said the local chapter was down to four dues-paying members.
"I'm still kind of bitter about the way people were treated in this whole deal," said Joseph Deshazer, one of the remaining members. "What they did may have been legal, but that doesn't make it ethical or right."
Deshazer, 54, worked at the Lawrence plant for almost 33 years.
"But what I see happening goes beyond Farmland," he said. "I see the middle class -- people who make $20 or $30 an hour -- being forced out, done away with. And what no one seems to understand is that these are people who are paying the bills that run this country.
"You can't buy a new car or a new couch when you're making $10 an hour -- when you're making $10 an hour, all you're doing is paying rent and buying groceries."
According to 2000 U.S. Census data, about 14 percent of the nation's workers belong to unions. They're strongest in New York, where union workers account for 27 percent of the workforce; weakest in North Carolina, where only 4 percent belong to a union.
In Kansas, about 9 percent of the workforce belongs to a union. Twenty years ago, 14 percent of the state's workers were unionized.
Unbalanced economy
Jim DeHoff, Kansas AFL-CIO executive secretary, blamed the decline on manufacturers exporting jobs to Mexico or overseas.
"The biggest concentration of union workers is in the aircraft industry down in Wichita," said DeHoff, who grew up in Lawrence and now lives on a small farm west of town.
"When you look at what's happened in the past 20 years in the aircraft industry -- there's been a tremendous outsourcing of work to places like Mexico in search of cheap labor," he said. "Now, with the economy the way it is, we've had massive layoffs -- and now you see people looking around and wondering why there aren't any jobs."
DeHoff, 58, said that as more and more displaced workers figure out what's happened, union membership will increase.
"There will be a revitalization," he said.
That day won't come soon enough for Bill Tuttle, an American Studies professor at Kansas University.
"Things are out of balance -- there's got to be more of a balance of power between the big corporations and organized labor," Tuttle said. "Right now, there's an astounding lack of corporate responsibility in the United States."
Tuttle, who grew up in Detroit, remembers when Labor Day was synonymous with presidents coming to town to address hundreds of thousands of autoworkers.
"It was almost obligatory that the president be there," he said. "Today? That doesn't happen."
Copyright 2018 The Lawrence Journal-World. All rights reserved. This material may not be published, broadcast, rewritten or redistributed. We strive to uphold our values for every story published.