Editor's Note: Journal-World staff photographer Thad Allender recently attended the Eddie Adams Workshop in Jeffersonville, N.Y. In a deviation from the regular Behind the Lens format, Allender recaps his workshop experience and shares a few photographs he took to document the event.
If a photo is truly worth a thousand words, than the Eddie Adams Workshop is the Tolstoy of workshops.
For the past 16 years, the Eddie Adams Workshop, aka Barnstorm, has brought together a diverse group of photojournalists, portraitists, photo editors, art photographers and photo students for an intense four-day workshop in upstate New York at the farm of Eddie Adams, a Pulitzer Prize-winning photographer.
During the workshop, 100 hand-picked newcomers to the field of photography rubbed elbows with veterans in the profession to learn the tricks of the trade and make connections. Workshop attendees included the directors of photography at National Geographic and White House Photography magazines, the photo editors at Sports Illustrated and The New York Times.
For two of the four days, photographers fanned out into nearby towns in Sullivan County to document topics such as "spirituality," "eats," "trailer parks" and "homecoming." Thousands upon thousands of photographs were taken, often times of the same subject from a slightly different angle with a slightly different expression, throughout the two-day excursion. Work often extended into the early morning hours as photographers edited pictures and viewed portfolios. At dawn, everyone was wide awake, eager to start shooting in the "good light."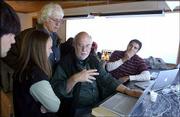 Back at the barn, Joe Rosenthal, who won a Pulitzer Prize for his photograph of Marines raising the American flag on Iwo Jima, spoke in a quiet and humble voice.
"It happened to be me (who shot the photo), but it might have been any photographer," Rosenthal said.
His presence amassed a small paparazzi of photographers throughout the weekend. Adams, who also received a Pulitzer Prize for his 1968 photo of Gen. Nguyen Ngoc Loan executing a Viet Cong prisoner in Saigon, said Rosenthal's photo was the best photograph ever taken.
The weekend gave many staff members a chance to reunite with friends and colleagues in the field of photography. One of the workshop's veteran photojournalists, Nick Ut, who received a Pulitzer Prize for his photograph of a young Vietnamese girl named Kim Phuc running naked after being burned by napalm in 1972, made a surprise introduction. Phuc, now Ut's lifelong friend, stood and spoke about the power photography has to change people's minds.
"When I look at my photograph, I see a girl crying out for peace," Phuc said.
The Eddie Adams Workshop is held annually in October and is open to students and professionals with less than three years of experience. For more information, visit www.eddieadamsworkshop.com.
"Behind the Lens" is an ongoing weekly series that features an image selected by the Journal-World photo staff that previously ran in the newspaper or online. Wondering how a certain picture was created? Nominate it for "Behind the Lens."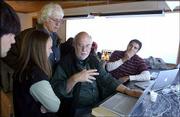 Copyright 2018 The Lawrence Journal-World. All rights reserved. This material may not be published, broadcast, rewritten or redistributed. We strive to uphold our values for every story published.