A Lawrence manufacturer meets city requirements for a tax abatement, according to analyses by city and Kansas University officials.
Now it will be up to a special committee and the Lawrence City Commission to decide if they agree with the assessment.
Amarr Garage Doors is seeking a 55 percent tax abatement on a proposed $17.39 million expansion of its factory at East Hills Business Park. In its application filed last week with the city, company officials said the expansion would create 80 jobs, in addition to 438 current Lawrence employees.
The city's policy requires that companies that receive tax abatements generate a 1.25-to-1 cost-benefit ratio -- that is, 25 percent more benefits in taxes and other aid -- for 15 years after the abatement is granted.
Amarr meets that requirement, according to the study by the Policy Research Institute at KU.
Luke Middleton, the researcher who performed the study, said Amarr would generate a 1.79 cost-benefit ratio for the local governments during 15 years. That number drops to 1.59 during the first 10 years, still in excess of the city requirement.
According to Middleton:
l Amarr would be abated $1,046,042 in taxes to the city, county and school district during the 10-year period. An additional $262,726 would be abated in state taxes.
l In those 15 years, the local governments would benefit to the tune of $1,304,286 in Amarr's tax payments and other aid if the abatement were granted.
l If no abatement were granted and Amarr built the expansion anyway, the local governments would receive a combined $2,350,328 instead.
But Amarr officials have suggested they would not build in Lawrence if the abatement were not granted.
"If this abatement is not approved, Amarr could do this project in Butler, Ind., or Whitehouse, N.J.," an Amarr vice president said in a letter to city officials.
The city's Public Incentives Review Committee meets at 3 p.m. Thursday to consider recommending the abatement to the Lawrence City Commission.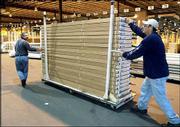 Copyright 2018 The Lawrence Journal-World. All rights reserved. This material may not be published, broadcast, rewritten or redistributed. We strive to uphold our values for every story published.