New York — Mindful of the New York Yankees' knack for coming back, Jack McKeon wants to finish them off tonight in Game 6 of the World Series.
And he'll try to do it with his ace -- Josh Beckett.
The Florida Marlins right-hander will start on three days' rest for the first time in his short career, which makes the move a gamble. But McKeon opted to go with Beckett rather than rookie left-hander Dontrelle Willis, relegated to a relief role during the series, or left-hander Mark Redman, who has a 6.50 ERA in the postseason and lost to the Yankees in Game 2.
"If I had Bobby Gibson out there on three days' rest, would anybody be asking me how I pitch Bobby Gibson?" McKeon said Friday. "No. That's the way we feel about Beckett."
Beckett, the 23-year-old Texan, has a 1-2 record with a 2.67 ERA this postseason. He retired 61 of 72 batters in his last three games.
Beckett pitched well but took the loss Tuesday in Game 3, when he went 71/3 innings and threw 108 pitches, many exceeding 95 mph. Thursday he told McKeon his arm felt fine.
"You always want to be that guy -- to take the ball in the last game or whatever," Beckett said. "A day's less rest, it's easier to stay sharp."
If the Yankees extend the series to Game 7 Sunday, Florida's starter will be Carl Pavano, also on three days rest.
"Two days, three days -- it's in the mind," McKeon said.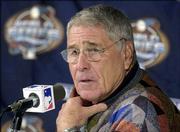 Pavano threw 115 pitches Wednesday and limited the Yankees to one run in eight innings to help Florida win Game 4. He's 2-0 with an ERA of 1.40 in the postseason.
"We're going to go with the guys who are pitching the best for us," McKeon said. "Beckett and Pavano have pitched the best for us in the playoffs."
Andy Pettitte, who won Game 2 of the World Series on three days' rest, will start tonight for New York. Mike Mussina would pitch Game 7.
Beckett shut out the Chicago Cubs on two hits in the NL championship series. Then, on two days' rest, he came out of the bullpen to retire 12 of 13 batters in Game 7.
Tuesday he limited the Yankees to three hits, all by Derek Jeter, and left in the eighth inning with the score 1-1. Florida lost, 6-1.
"The way he's throwing right now, with his adrenaline flowing, I'm sure he'll be fine with three days' rest," teammate Derrek Lee said.
McKeon could have opted to save Beckett for a possible Game 7, when he would be fresher. But if the Yankees win tonight, they would have the upper hand playing at home in a winner-take-all finale.
And the Marlins know how hard the Yankees are to put away.
"They believe they're always in the game, no matter what the score," Lee said. "They remind us of ourselves."
Copyright 2018 The Associated Press. All rights reserved. This material may not be published, broadcast, rewritten or redistributed. We strive to uphold our values for every story published.