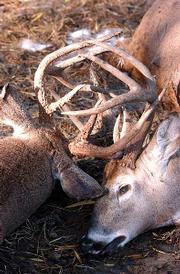 A Douglas County landowner who lives about three miles northwest of Lawrence came across a gruesome sight on his property earlier this week -- two dead deer with their antlers tangled.
The landowner told the Journal-World that his dog found the two bucks on Wednesday.
Such sights are not uncommon where deer are plentiful during the rut, or mating season, when bucks compete for dominance. When the antlers become locked, deer often die of dehydration.
The landowner, who didn't want to be identified, contacted a hunter he knew, who took the antlers, which were 11-points and nine-points.
The landowner planned to leave the deer carcasses out for the turkey vultures.
Copyright 2018 The Lawrence Journal-World. All rights reserved. This material may not be published, broadcast, rewritten or redistributed. We strive to uphold our values for every story published.