MORGANTOWN, W.VA. — Virginia Tech looked practically unbeatable in six blowout wins during the first half of the season.
The start of the second part was another matter, and now the third-ranked Hokies have a huge cloud over their national-title hopes.
Quincy Wilson rushed for a season-high 178 yards and West Virginia looked dominant Wednesday night, beating Virginia Tech, 28-7.
"A lot of people were talking about Miami and Virginia Tech," West Virginia coach Rich Rodriguez said. "Somehow, everybody forgot about West Virginia."
Virginia Tech fell down 14 points early and never crossed midfield in the second half in suffering its worst defeat since a 38-7 setback to Pittsburgh Nov. 3, 2001.
"They took it to us," Virginia Tech coach Frank Beamer said.
The Hokies (6-1, 2-1 Big East) now must regroup for a showdown Nov. 1 at home against No. 2 Miami. Virginia Tech entered the game third behind Oklahoma and Miami in the first Bowl Championship Series standings.
"It's a long season," Virginia Tech's Vegas Robinson said. "We beat Miami, and only one (major) undefeated team is left. We're not going away."
Beamer said he wasn't sure whether Tech's national championship dreams were dashed.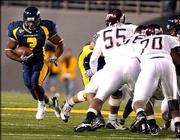 But he'd like something to show for Virginia Tech's final season in the Big East. Tech is moving to the Atlantic Coast Conference along with Miami and Boston College.
"We can still win a share of the Big East title," he said. "So that's what I'm concerned about."
Virginia Tech wanted revenge for a 21-18 setback to the Mountaineers last year in Blacksburg, Va. Instead, West Virginia fans stormed the field in celebration of the school's first back-to-back wins over the Hokies in a decade and its first victory over a team ranked as high as the Hokies.
Police used pepper spray on fans who tried to tear down the goal posts. It wasn't immediately known whether anyone was arrested or hurt.
Wilson and Kay-Jay Harris had touchdown runs. Rasheed Marshall ran for one score and completed the second-longest pass play in school history for another TD as the Mountaineers (3-4, 2-1 Big East) pulled off the shocker.
"I hope people don't judge us from the start. I hope they judge us from the end," said West Virginia's Travis Garvin, who caught the 93-yard TD pass from Marshall. "Hopefully, people will see how good of a team we really are."
West Virginia minimized Tech's biggest weapons, turned two first-half turnovers into scores and roughed up the Big East's top defense for 426 yards.
Bryan Randall was intercepted three times and had four fumbles, one which was recovered by West Virginia.
Running back Kevin Jones was held below 100 yards rushing for the first time in five games.
DeAngelo Hall, who scored twice on punt returns two weeks ago against Syracuse, rarely got an opportunity.
Randall fumbled the game's first snap, and not much else went right for the Hokies.
Even their three-game streak of blocked punts came to an end.
"This was a tough loss, but I guess you can't win them all," Randall said. "When things go bad, they really go bad."
Copyright 2018 The Associated Press. All rights reserved. This material may not be published, broadcast, rewritten or redistributed. We strive to uphold our values for every story published.