Miami — Ugueth Urbina blew the save. Then the teammate he supplanted last month as Florida's closer came to the rescue.
Braden Looper pitched out of a bases-loaded jam in the 11th inning, and worked a scoreless 12th to help Florida beat New York, 4-3, Wednesday night in Game 4 of the World Series.
Urbina, who replaced a faltering Looper as the closer in the final week of the regular season, failed to hold a 3-1 lead in the ninth. But Alex Gonzalez hit a game-winning leadoff homer for Florida in the 12th.
With the victory, the Marlins evened the series at 2-all and ensured a return to Yankee Stadium this weekend.
After Chad Fox loaded the bases in the 11th with one out, Looper struck out Aaron Boone, the hero of the Yankees' Game 7 victory in the AL championship series.
"There was no room for error," said Looper, a Wichita State product. "I had to come right after him. I was able to make some good pitches. Luckily, I got the strikeout. It was an awesome feeling."
Looper retired John Flaherty on a popup, then celebrated with a fist pump as he walked off the mound.
"It's the most exciting time I've ever had in baseball," Looper said.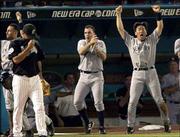 "That was a great opportunity for us," Yankees manager Joe Torre said. "He certainly did a heck of a job."
Marlins manager Jack McKeon said he brought the hard-throwing Looper into the game because they needed a strikeout. He acknowledged the move was risky.
"It was a scary moment, because we know he's also subject to walking a guy once in a while," McKeon said.
Looper gave up a two-out single to Jason Giambi in the 12th but retired Bernie Williams.
"He did an excellent job, and it's got to be a boost to his confidence," McKeon said.
Looper's postseason ERA is 2.70, and now he has a World Series victory. The Marlins improved to a remarkable 10-1 in one-run games in the postseason, and the series is tied even though they've been outscored 17-9.
"It says that when we get good pitching and keep the opposition low-scoring," McKeon said, "we're going to figure out a way to beat you."
Copyright 2018 The Associated Press. All rights reserved. This material may not be published, broadcast, rewritten or redistributed. We strive to uphold our values for every story published.