Kingston, Jamaica — Brian Baylie, a mild-mannered exterminator by day, becomes a cutthroat domino player by night, clacking pieces together on bar room tables and intimidating opponents.
From the beaches of Barbados to the cafes of Cuba, dominoes long have been a favorite pastime in the Caribbean. Now, more than 500 of the world's best players are converging on Jamaica for the World Championship of Dominoes.
"Jamaicans take dominoes very seriously," said Baylie, 38, who challenges his computer when he cannot find opponents on the streets of Jamaica. "It's is an accepted part of life here."
The three-day tournament beginning today at the Ocho Rios resort will have players from a dozen Caribbean countries, the United States, Britain and Mexico squaring off for more than $150,000 in cash and prizes.
Dominoes was invented by the Chinese in 1120 A.D., using tiles carved from ivory or bone with inset ebony pips. It did not reach Europe until the early 18th century, when it appeared in Italy, France and England before spreading from taverns and pubs to the far-flung British colonies in the Caribbean.
"I like it because it's a brain game, a mental challenge," said Buxton Rankin, 56, one of about 50 players hunched over felt-lined tables at a Kingston nightspot, preparing for the championship.
First place is worth $25,000, second $12,500 and third $7,500.
Some players liken the game to poker as they try to gauge opponents' moves.
"Dominoes in Jamaica is synonymous to baseball in America," said Chris Blake, general secretary of the National Association of Domino Bodies, which regulates the game on the island of 2.6 million people. "It's second nature to us."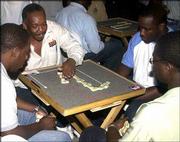 On Jamaican streets, the style of play is loud.
Players thump domino pieces, or "bones," on wooden tables to intimidate opponents and erupt in joy after a winning hand. Insults -- and the occasional fist -- fly in heated games.
Matches continue for hours at night, to the chagrin of spouses and family members.
The game, while known for cutting across class and race, traditionally has been dominated by men. But more women are joining clubs, entering tournaments -- even winning.
"Once the guys realize you can play and aren't a pushover, then they respect you," said Ann-Marie Benjamin, 38, of Jamaica.
It's all part of efforts to bring uniformity and discipline to the game, said Ruddy Schaaffe, the Miami-based chairman of the World Championship of Dominoes.
And the ultimate goal?
"We'd like to see dominoes become an Olympic event," Schaaffe said. "It has a long way to go, but the light in the tunnel is getting brighter and brighter."
Copyright 2018 The Associated Press. All rights reserved. This material may not be published, broadcast, rewritten or redistributed. We strive to uphold our values for every story published.