Worden — Topics ranged from the history of Kansas rock formations to the importance of safety at the workplace.
But students from Marion Springs Elementary who attended a field trip Wednesday at a rock quarry in rural Douglas County clearly had one favorite part of the day.
"The explosion," fourth-grader Clayton Duncan said. "It was cool the way it all blew up."
That explosion was 2,000 pounds of dynamite used by the quarry once a day to break up limestone that is then broken into smaller chunks used in buildings, concrete and road paving.
Students sat in a school bus 300 to 400 yards from the blast, which sent between 3,000 and 3,500 tons of rock a few feet into the air.
"It was cool," fifth-grader Jessica Barnes said. "It goes up in the air."
This was the second year classes from the school have loaded into the school bus and toured the quarry, which sits on 480 acres a few miles southwest of Worden. About half of the land has been excavated since it was started in the 1930s as a Works Progress Administration program to create gravel for U.S. Highway 56.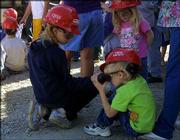 Chris Kile, who teaches both fourth and fifth grades at the school, said the tour showed several practical applications for topics taught in her science courses, including earth surfaces, fossils, renewable resources and earthquakes (The explosives experts measure their blasts with a seismograph).
But she admitted the prospect of seeing the rocks broken by dynamite had been a topic of conversation in her classes.
"That doesn't surprise me at all, really," she said. "We'll blow something up to get their attention, I guess."
Much of the day was spent by officials with Hunt Midwest Mining, which operates the quarry, and their vendors explaining various aspects of the limestone business.
Tim Spears, superintendent of the plant, repeatedly stressed the importance of safety to the children, including the use of hard hats, goggles and harnesses. Other topics included equipment maintenance and how the limestone is used, including applications in cosmetics and toothpaste.
Spears said field trips were one way Hunt Midwest Mining tried to teach about its operations to people living near its quarries.
"We're kind of like landfills -- nobody wants us next door at first," he said. "We're trying to come up with ways to reach out -- to help our public relations a little bit."
Copyright 2017 The Lawrence Journal-World. All rights reserved. This material may not be published, broadcast, rewritten or redistributed. We strive to uphold our values for every story published.