An equipment auction that begins today at a shuttered fertilizer plant east of Lawrence will bring bankrupt Farmland Industries Inc. one step closer to selling the 467-acre facility.
Kevan Vick, Farmland's general manager of nitrogen manufacturing, said company officials had been negotiating with several parties interested in acquiring the plant, which is located on Kansas Highway 10 just east of the city. He declined to identify them.
The auction, scheduled to run through Saturday, aims to get rid of most of the plant's support equipment -- everything from office furniture to a locomotive engine. It doesn't include the equipment used to manufacture nitrogen fertilizer. The auction is being conducted by Mass Companies Inc. of Rochester, Minn.
Vick said the bankrupt Kansas City, Mo., agriculture cooperative would receive a bid for a majority of the plant's nitrogen fertilizer-making equipment by the end of the month. He declined to name potential bidders.
Growing interest
Vick also declined to say how many parties were interested in the land, but said he expected the number to increase if Farmland was successful in removing the fertilizer equipment from the plant.
"I think it would broaden the number of interested parties," Vick said. "I think there are a number of people who would be glad to take on the redevelopment of the land if it didn't have any equipment on it."
City officials confirmed Wednesday that they and Douglas County commissioners were discussing a possible purchase of the property.
"I wouldn't say we're done looking at it," Lawrence Mayor David Dunfield said. "There's still some interest there."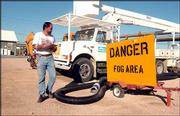 City and county commissioners have said they were interested in purchasing the property to provide the community with more industrial land and green space.
Dunfield said commissioners also wanted to ensure the property doesn't become a long-term eyesore and that its environmental problems, which include nitrate contamination of the groundwater, are properly managed. Farmland has been required by the state to begin a pumping program that stops the contaminated water from spreading into aquifers used by humans and livestock. It is likely that program would have to continue after the property is sold.
County concerns
Douglas County administrator Craig Weinaug said government officials were trying to gather more information about the environmental condition of the property.
Vick said the company was providing information to all interested bidders, but that environmental issues weren't a roadblock to redevelopment.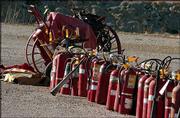 "That's not to say there aren't issues there, but they have all been publicly disclosed and well documented," he said.
Some of the property might not be suitable for certain uses, such as residential, but Vick said other parts of the property were extremely clean.
Potential buyers have mentioned a range of uses, he said, ranging from industrial to residential.
Vick said he was optimistic that Farmland may receive a bid on the property by year's end. Any bid ultimately would have to be approved by the bankruptcy court.
County Commissioner Bob Johnson said government officials would like the private sector to redevelop the property and take care of its environmental problems.
But he said there was concern that private companies would only be interested in purchasing the clean portions of the property and leaving the environmentally-challenging pieces for bankrupt Farmland or the community to care for.
"We've gotten involved in it because we think we need to protect it from being left there to be taken care of by some shell company that doesn't really have the assets to take care of it," Johnson said. "That would be the worst thing that could happen to it."
Vick said the company didn't have plans to sell only a portion of the land.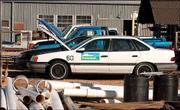 Copyright 2018 The Lawrence Journal-World. All rights reserved. This material may not be published, broadcast, rewritten or redistributed. We strive to uphold our values for every story published.