It's 14 years ago this month that longtime Lawrence City Manager Buford Watson died, but friends and associates say his legacy lives on.
A bust of Watson was unveiled Sunday afternoon at Buford M. Watson Jr. Park, Sixth and Kentucky streets, which was named for him after his death in 1989.
"I think he has a tremendous legacy," his widow, Faye, said last week. "He had a wonderful career that doesn't die."
City Manager Mike Wildgen spent much of his early career apprenticing under Watson.
"Buford gave me 15 years of great training, the opportunity to work with him," Wildgen said recently. "I had lots of good mentors in this business, and Buford was one of them."
Watson was Lawrence's city manager from 1970 until his death. His tenure saw the expansion of Lawrence's city limits south and west, as well as construction of a new library, some public housing for the poor and elderly, and new water and sewer plants.
Watson also was credited with a major role in the downtown renewal of 1972 that used federal funds to transform the city's main shopping district.
He also had some difficult times on the job. His first year, marked by unprecedented turmoil in Lawrence over the Vietnam War and racial issues, included major arson fires, confrontations in the streets and the shooting deaths of two young men.
Watson's identification with the Haskell Loop road project in East Lawrence, put on the shelf by the City Commission in 1976, antagonized some neighborhood activists. Also in 1976, Watson was the lightning rod as city management and newly formed police and fire associations conducted bitter negotiations. Other city workers, especially in the sanitation, or trash collection, department, were highly critical of the city manager.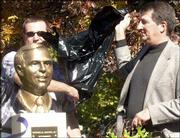 The events led some critics to petition for changing from the city manager-commission form of government to a mayor-council form. The proposal was rejected 5-to-2 by voters in a 1977 election. Watson also fought off a serious effort in 1982 by some commission members to force his resignation.
Watson was a member of the International City Management Assn. since 1956, and in 1986, he became the first Kansan to be elected as the organization's president. He also had served as an ICMA vice president in 1979-80, and that organization named one of its major awards after Watson.
He served as president of the Kansas Association of City Managers, chairman of the ICMA task force on form of government and on the legislative committee of the League of Kansas Municipalities.
About 60 people gathered Sunday in the park for the bust unveiling, including Watson's immediate family members as well as friends and local government officials.
One of his sons, Mark Watson, is following in his dad's footsteps and is the city manager of Temple, Texas.
"This is, indeed, a great tribute and a great honor for us, personally as well as professionally," he told the crowd.
After Buford Watson's death, friends and family established a scholarship fund in his name. The fund has helped pay for 14 students to enroll in the city management program at Kansas University.
"He was a mentor to so many city managers," Faye Watson said. "He was a leader. He had the ability to lead and push at the same time -- and people didn't always know they were being pushed."
Copyright 2018 The Lawrence Journal-World. All rights reserved. This material may not be published, broadcast, rewritten or redistributed. We strive to uphold our values for every story published.