No matter what happened Saturday afternoon on the gridiron at Kansas University's Memorial Stadium, bears were taking a beating all morning elsewhere on campus.
Saturday marked Homecoming at KU, and among the floats being pulled through the center of the campus along Jayhawk Boulevard in a mid-morning parade was one depicting a Jayhawk facing off against a Baylor Bear. It was Nicole Carmody's favorite part of the parade.
"It was cool," the 9-year-old Lawrence girl said.
"The candy was pretty good, too," Nicole added, as her mother, Wendy Carmody, nodded and opened her purse to show numerous pieces of candy her daughter collected after parade participants had tossed them toward her.
While his wife and daughter watched the parade, John Carmody was a short distance away in the stadium parking lot getting food ready for the pre-game tailgating party.
"We're here every week," Wendy Carmody said.
The parade kicked off the day's Homecoming activities, which were highlighted by KU's 28-21 football victory over Baylor in front of an announced crowd of 40,088. The KU Marching Jayhawks led the parade followed by parade grand marshal Danny Manning, who led the 1988 KU basketball team to the NCAA championship, and Chancellor Robert Hemenway, both riding in convertibles.
Next came a hodgepodge of floats, sign-bearing walkers, classic cars and about a half-dozen bands, including the KU Alumni Band, which marched at the end.
Sid Taylor, of Prairie Village, enjoyed himself.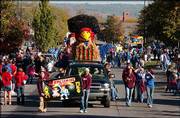 "It was very good," he said. "There was a KU band at the beginning and a KU band at the end and everything you would want to see in between."
Although Taylor isn't a KU alumnus, he quickly noted that three of his children had graduated from KU and a fourth was attending classes on Mount Oread.
"I've got a pretty good investment here," Taylor said.
Patrick Meacham, a 1988 KU graduate now living in Raleigh, N.C., brought his wife, Sharmane Meacham, and 6-month-old daughter, Erin, to the campus for the first time.
"I hadn't been back for seven or eight years," he said after watching the parade.
Many of those who lined the sidewalks to watch the parade then moved to campus parking lots for tailgating.
"We're having bear steaks," joked David Schneweis, who along with his son Chris sat in lawn chairs under a canopy waiting for the charcoals to get hot.
"This is probably the best part of the game outside of a KU victory," said Chris Schneweis, of Olathe.
"It just makes it an event," said Kevin Kongs, of Topeka, who along with Olathe resident Jim Hendrickson, were eating with the Schneweises.
Copyright 2018 The Lawrence Journal-World. All rights reserved. This material may not be published, broadcast, rewritten or redistributed. We strive to uphold our values for every story published.