STILLWATER, OKLA. — Jon Holland settled a 100-point game with a timely defensive play.
Holland intercepted B.J. Symons' pass with 1:05 left as No. 23 Oklahoma State ended Texas Tech's furious comeback in a 51-49 victory Saturday.
Tatum Bell ran for a career-high 238 yards, with TD runs of 95, 48 and 5 yards, and the Cowboys (6-1, 2-1 Big 12) scored on their first eight possessions to take a 48-21 lead into the fourth quarter.
"The offense came out quickly with big plays by Tatum Bell and Rashaun Woods," Cowboys coach Les Miles said. "It gave us the opportunity to score and score repeatedly."
Symons was 42-of-67 for 552 yards, his sixth straight game with more than 400 yards. He threw five touchdown passes and ran for another score, but also had two interceptions and missed several open receivers.
"I personally feel like I let the team down," Symons said. "Obviously the game wasn't lost on that last play, but to fight so hard and come up short hurts."
Texas Tech, the nation's second-highest scoring team, got back in it with four fourth-quarter touchdowns, one after Joey Hawkins recovered an onside kick. The Red Raiders (5-2, 2-1) drove to the Oklahoma State 40 before Holland's interception.
Luke Phillips' 20-yard field goal with 5:43 remaining ended a 21-0 Texas Tech run as the Cowboys beat the Red Raiders for the first time in four tries.
"We understood that this would be a four-quarter game," Miles said. "The clock just doesn't seem to run when you play Texas Tech."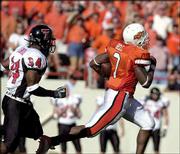 Oklahoma State's Josh Fields threw for 320 yards and a touchdown on 18-of-29 passing, moving into second place on the school's career passing list with 5,004 yards.
Woods had 147 yards on six catches in Oklahoma State's homecoming game, which lasted more than four hours with 97 passes and 20 penalties to stop the clock. It was Woods' 18th 100-yard game.
The teams combined for 1,334 total yards. Oklahoma State was third in the nation in scoring coming in, averaging 40.6 points. Texas Tech had averaged 46.8.
Bell, the Big 12's second-leading rusher, easily surpassed his season average of 107.8 yards. His 95-yard run through a huge hole up the middle was the third-longest rush in Cowboys history.
Oklahoma State led 34-14 at halftime, scoring on all six possessions.
No. 1 Oklahoma 34, No. 24 Missouri 13
Norman, Okla. -- Jason White threw for 278 yards and two touchdowns, and Antonio Perkins tied a Division I-A record with his seventh career punt return for a touchdown for Oklahoma. The Sooners (7-0, 3-0 Big 12) looked a little sluggish at the start, a week after their 65-13 dismantling of Texas. But Oklahoma scored three touchdowns in the final seven minutes of the second half to turn the game into a rout.
No. 18 Nebraska 48, Texas A&M; 12
Lincoln, Neb. -- Jammal Lord ran for two touchdowns and Nebraska equaled a school record by forcing eight turnovers. The Cornhuskers (6-1, 2-1 Big 12) picked on the Aggies' Reggie McNeal all day, intercepting three passes and recovering two fumbles. The last time Nebraska collected eight turnovers was 1991, against Colorado State. Lord carried 15 times for 109 yards and scored on runs of 22 and 31 yards as the Huskers rebounded from a loss at Missouri.
Texas A&M; fell to 3-4 overall and 1-2 in the Big 12 under new coach Dennis Franchione.
No. 20, Texas 40, Iowa State 19
Ames, Iowa -- Roy Williams caught a touchdown pass and set up two other scores with big plays, including a pass of his own, as Texas bounced back from its blowout loss to Oklahoma. Vince Young threw a touchdown pass in his first start for the Longhorns (5-2, 2-1 Big 12), Cedric Benson ran for 140 yards and three TDs, and Texas played inspired defense. One week after being routed, the Longhorns had five sacks and held Iowa State (2-5, 0-3) to 45 yards in building a 27-0 lead.
Copyright 2017 The Associated Press. All rights reserved. This material may not be published, broadcast, rewritten or redistributed. We strive to uphold our values for every story published.