Marian Washington said the answer to success in her 31st season as Kansas University's women's basketball coach was in the stars.
"I watched Nancy Reagan for years help to run this country by way of her astrologer," Washington quipped during Wednesday's KU women's media day. "I decided to call mine, and I was told to enjoy this year. And that's exactly what I'm going to do."
Washington, who hopes to stop her skid of consecutive losing seasons at three straight, said the Jayhawks would rely on a highly touted recruiting class and a core of returnees -- both of which she said contained budding basketball stars.
"I think this team is going to be much improved," said Washington, whose team was 11-18 last season. "I am really excited and I think the staff is really excited."
While returners -- senior guard Leila Mengüç (2.7 points per game, 2.2 assists per game), juniors Blair Waltz (7.5 ppg, 2.2 rebounds per game, 2.0 apg) and Aquanita Burras (10.5 ppg, 4.8 rpg, 2.6 steals per game), who play the guard and small-forward positions, and sophomores Crystal Kemp (10.9 ppg, 5.8 rpg) and Tamara Ransburg (10.9 ppg, 7.8 rpg), who occupy the forward and center spots -- started in all but seven games last season, Washington said five newcomers added much-needed depth.
"For the first time in I don't know how many years, we will have depth," said Washington, whose team opens with an exhibition game against Sparta Praha (Basketball Travelers) Nov. 10 and starts its season at UMKC Nov. 21.
"We are going to be two-deep in every spot. We have added some really good experience. We added size, quickness and scoring -- all things we needed."
Where freshmen Sharita Smith (a 5-foot-8 guard from Dallas) and Lauren Ervin (a 6-3 forward from Inglewood, Calif.) or junior college transfers Kandis Bonner (a 6-1 forward from Peoria, Ill.), Kaylee Brown (a 5-7 sophomore guard from Edmond, Okla.) and Larisha Graves (a 5-8 junior guard/forward from Jackson, Miss.) fit in has not been set in stone, Washington said.
"In terms of the starting lineup, I don't even want to think about that right now," said Washington, who also had to replace six players -- none of which were seniors -- who left the KU program after last year.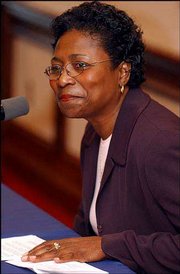 "What I'm delighted with is that I think we got some depth and it's important that we all pull together to use the depth that we have," continued Washington. "It's going to take everybody to be successful this year. It doesn't matter who starts. People have to come off the bench ready to play."
While that list includes sophomore Nichelle Roberts and red-shirt freshman Alicia Rhymes, and definitely sophomore point guard Erica Hallman, who led the team in assists with 3.3 per game, and also scored 7.8 ppg despite playing with a torn ACL, there is one player that might not suit up for the Jayhawks.
Syretta Coleman, a juco transfer from Los Angles Valley Community College, was not listed on KU's official roster Wednesday.
The 5-9 Coleman -- who averaged 18.6 points, 5.6 rebounds, 5.5 assists and four steals per game at LAVCC, and was the MVP of the Western State Conference, as well as the Arizona player of the year her senior season at Chandler High School -- signed with Kansas in late May with the three other junior college transfers.
While Washington didn't discuss Coleman's situation, she did talk about the impact the junior college players could have for the Jayhawks this season.
"They all have been standout players at their respective institutions and we were very pleased with the group this year," Washington said. "I really expect that they are going to help us."
While her team may still be rebuilding, Washington said that with more impact scorers and skill players she expects wins this year -- not just progress.
"It has been a real challenge," Washington said of the past three seasons, which included a winless campaign in the Big 12 two years ago. "I am happy now because I have some players who really understand the work ethic and the kind of competitive attitude it is going to take."
Waltz, for one, said she has seen Washington's will to win more than ever during preseason drills.
"I really don't know how to describe her attitude," Waltz said with a smile. "But just by the look in her eyes I know this season is going to be fun."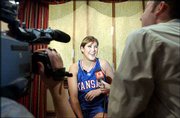 Copyright 2018 The Lawrence Journal-World. All rights reserved. This material may not be published, broadcast, rewritten or redistributed. We strive to uphold our values for every story published.