Baghdad, Iraq — Suicide car bombers struck in Baghdad for the third time in a week Tuesday, this time outside the Turkish Embassy in yet another blow against those who would help the U.S. occupation. Witnesses said the driver and a bystander were killed, and hospitals said at least 13 were wounded.
In the southern city of Karbala, meanwhile, gunmen of rival Shiite Muslim factions clashed, and witnesses said several people were killed or injured. It appeared to be part of a power struggle between forces of the firebrand cleric Muqtada al-Sadr and followers of religious leaders who take a more moderate stand toward the U.S. occupation.
Just who is behind the car bombings in the capital -- including two killing 18 other people in Baghdad in recent days -- remained a mystery, although Iraqis converging on the scene Tuesday began chanting pro-Saddam Hussein slogans.
"This is the act of those who want to turn Iraq into a terror paradise," said Turkish Ambassador Osman Paksut, whose government has offered peacekeeping troops to reinforce the U.S. military presence here, a move strongly opposed by Iraqis.
Much of the blast was absorbed by concrete barriers outside the embassy, U.S. officials said. The bomber might have caught U.S. troops if he had struck last weekend, when they were deployed outside the mission in northwest Baghdad.
"About three days ago, we received indications that there might be increased danger on the Turkish Embassy," said Col. Peter Mansoor of the U.S. 1st Armored Division.
Investigations of seven other Iraq bombings, killing more than 140 people beginning in August, have made no known breakthroughs.
The Turkish Foreign Ministry indicated the attack would not affect an eventual troop deployment. "Turkey will persevere with its efforts with determination," it said.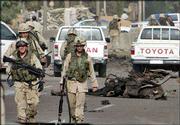 Copyright 2018 The Associated Press. All rights reserved. This material may not be published, broadcast, rewritten or redistributed. We strive to uphold our values for every story published.