Corning, N.Y. — At first glance, Steuben Glass doesn't seem to fit with parent company Corning Inc., the maker of the fiber optics for telecommunications.
Steuben Glass, which produces the only luxury lead crystal still handcrafted in the United States, creates works of art that can cost into the tens of thousands of dollars. Its goblets and wine glasses are priced starting at $150 apiece. And it doesn't always turn a profit.
But Steuben is an asset to Corning, giving it status and the possibility of new glass-making technologies. And so Corning, which divested many other glass-making operations in recent years, supports and sustains this tiny subsidiary.
Steuben got its start in this quintessential company town of glassworkers in 1903, when Frederick Carder, an English designer, agreed to run a glass-engraving shop in exchange for the freedom of creating decorative glass. His richly hued creations turned him into a giant of the glass arts scene alongside Louis Comfort Tiffany and Rene Lalique.
'Brilliant' work
Corning bought out the business in 1918 and, as popular taste turned toward less ornate forms, formulated a colorless, highly refractive, heavy lead crystal that has distinguished Steuben since the Depression era.
Steuben glass can be breathtaking.
"It almost seems to emanate light from within," said Mary Jean Madigan, author of "Steuben Glass: An American Tradition in Crystal." "It has the ability, depending on how it's worked, to capture and either reflect or refract ... the entire spectrum of a ray of light, so that it is matchlessly transparent and brilliant."
Other hallmarks, Madigan said, were its elegant, naturally flowing shapes and "its peerless craftsmanship, including the now rare art of copper wheel engraving" -- using dozens of fine copper wheels attached to a lathe to create subtle engravings.
To spread Steuben's reputation, the Houghton dynasty -- art patrons who have run Corning Inc. for 152 years -- staged dazzling exhibitions of works in crystal by leading contemporary artists such as Henri Matisse, Georgia O'Keeffe and Salvador Dali. More recently, they have brought in glass artists as visiting designers, notably Venetian master Lino Tagliapietra in 1998.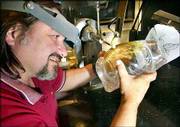 Steuben advertisements were long a staple in The New York Times Magazine, showcasing limited edition artistic pieces including a trout jumping out of the water to catch a fly and an arctic fisherman poised on the ice, preparing to spear his catch.
Reaches milestone
To mark the company's centennial, about 200 rare and iconic Steuben pieces, many from private collections and major European and U.S. museums, will go on display at an exhibition running from Nov. 7 to April 25 at the Museum of the City of New York.
"The very fact that an American company has survived 100 years and has kept its fundamental themes of craftsmanship and quality is just an amazing thing," said Thomas Dimitroff, a historian who wrote "Frederick Carder and Steuben Glass: American Classics."
Only 120 people work for Steuben Glass, and few enterprises demand such a high rate of craftmanship. Its stable of specialists employ both innovative and centuries-old techniques as the crystal moves from 2,500-degree Fahrenheit furnaces through blowing, grinding, polishing, etching and other precision processes.
"It's seldom we make over 1,000 of anything," said chief executive E. Marie McKee. "This is a handmade product for the most part. We are not in the business of mass production."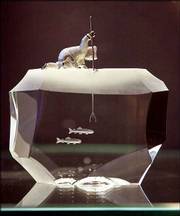 Most Steuben is ornamental, but the turnout of bowls, jam jars, goblets and other functional pieces has jumped in the last year to nearly a quarter of the output.
"We are encouraging people not to just put them in a curio cabinet but in fact to make them part of your life," McKee said. Her only admonition: "Don't put it in your dishwasher!"
While stemware starts at $150, she said, "the bulk of our product line is actually in the $500 range, with sculptural products usually ranging from $7,000 up to $40,000."
Survives changes
Corning doesn't break out Steuben's finances -- analyst Gabriel Lowy of Blaylock & Partners estimates sales still hover around $25 million. But while crystal hasn't always contributed to profits, its value lies in the status it confers on its owner.
Even as Corning has struggled through tough times following the collapse of the telecommunications industry in 2001 -- forcing the company to sell, among other assets, its famed consumer products division -- Steuben seems certain to remain on board.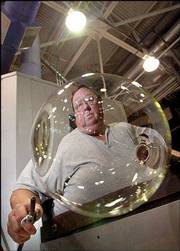 "It also does overlap with their glass technologies," Lowy said of Steuben. "You never know when there's potential to learn something new from Steuben that could be used in other applications."
Steuben has managed to survive the development of the mechanical pressing of glass, which led manufacturers away from "hand-crafted, hand-blown, individual-object creation," Dimitroff said. "Most U.S. companies, especially in the Ohio, Pittsburgh, West Virginia region, opted to go with mechanization, and they did that in order to survive."
"With the support of Corning, it was possible for Steuben to sustain handcraftsmanship in spite of financial pressures," he said. "When something reaches the position of being as great a tradition as Steuben Glass is, there's tremendous forces to sustain it."
Copyright 2018 The Associated Press. All rights reserved. This material may not be published, broadcast, rewritten or redistributed. We strive to uphold our values for every story published.