Sabin Levi would go anywhere -- even a strife-torn country -- to play the organ.
The Kansas University doctoral student will be one of eight organists who will play at Israel's first International Organ Festival Nov. 17 through Nov. 20 in the cities of Haifa, Jerusalem and Tel Aviv.
"There is no place that I would not go if it's about music, about organ or about art," Levi said. "There should be no political boundaries, there should be no forbidden places, and there should be no fear to go to them. Life has to go on."
For years, organists have been trying to have a festival in Israel but because many there consider the organ primarily a Christian instrument, it is not widely played in the predominantly Jewish country, Levi said.
"I'm trying to popularize Israeli organ art and music with every effort possible," he said. "Organ music isn't very well known in Israel. Organs are mostly found in old churches, so organ art is only in the beginning stages."
It was a huge honor, Levi said, when the Israeli Organ Society invited him to perform in the festival, especially since he did not compete or apply to participate.
Levi, a native of Bulgaria, studied organ performance for five years at Jerusalem Rubin Academy for Music and Dance before he came to the United States. In those five years, Levi was an active organist and knew members of the Israeli Organ Society. That is why the group invited him, he said.
Levi is also the only person from America who was invited to participate in the festival, said James Higdon, professor of organ at KU. The other seven organists are from countries such as Hungary, France and Switzerland.
"It's very prestigious to be asked to attend because it's the only thing like it that they've ever done," Higdon said. "He's an exceptionally fine performer."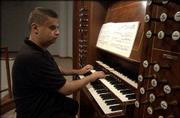 Levi's love for the organ started when he was young, he said. Whenever he heard organ music on the radio as a child, he said, he would become excited. At age 16, he started taking organ lessons and now, at age 33, Levi is double-majoring in organ and composition and also works as an organist in churches in Kansas City, Mo., and Independence, Mo.
The festival will be conducted in three venues in Israel: Hecht Museum Auditorium at the University of Haifa; Brigham Young University Center for Near Eastern Studies in Jerusalem and Clairmont Recital Hall at Tel Aviv University. Levi will be playing two separate concerts in Jerusalem and Tel Aviv.
For Higdon, the festival adds light to the dark images of violence in Israel that people see on television.
"Times are terrible in that part of the world," he said. "This festival presents beautiful pieces in the midst of all that. The focus is on aesthetics and not war."
During the two-hour concerts, concert-goers will hear classical pieces including music by Bach and Brahms. Levi will perform his original works including "Triptych for Organ," "Choral Preludes" and "Meditations."
But Levi said for him the best part of the performance would be introducing the audience to the "king of all instruments."
"I just want to show them what an organ is all about," Levi said. "It's important for me because the organ is an instrument for everyone. This is a magical experience, and I want as many people to have a good experience."
Copyright 2018 The Lawrence Journal-World. All rights reserved. This material may not be published, broadcast, rewritten or redistributed. We strive to uphold our values for every story published.