LINCOLN, NEB. — Shortly after he apologized for punching a Missouri fan following Nebraska's loss to the Tigers, the Cornhuskers' Kellen Huston was suspended for this week's game against Texas A&M.;
Earlier Tuesday, a fan stepped forward claiming he was the person assaulted by Huston as people stormed Faurot Field after Saturday night's game in Columbia, Mo.
Coach Frank Solich said in a statement that he decided to discipline Huston, a kick holder, after reviewing a videotape of the incident and interviewing people who were at the scene.
"I truly believe that Kellen did not instigate the situation and that he was simply reacting to what he saw as a dangerous situation coming right at him," Solich said. "However, Kellen knows that we do not condone our players striking another person, and he will be suspended for this week's game."
Athletic director Steve Pederson supported Solich's decision.
"I would never claim that hitting someone is appropriate," Pederson said, "but I was not standing in Kellen Huston's shoes on Saturday night. However, I was at the edge of the field, and I have never personally witnessed such an out-of-control situation."
Matthew Scott, 21, of Lee's Summit, Mo., reported to University of Missouri-Columbia police that he was punched by Huston.
Police Chief Jack Watring said the case was being handled as a misdemeanor assault because Scott did not suffer any broken bones or serious injuries.
Watring said the case would be forwarded to the city attorney for prosecution.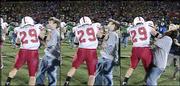 Scott is not a student at the university, Watring said.
Huston was confronted by the fan as he was unbuttoning his chin strap and walking off the field, Solich said.
"I believe he reacted to what he thought was a threatening situation that happened in less than a second," Solich said.
Linebacker Demorrio Williams said the situation Saturday was "scary."
"My main thing is to hurry up and get off the field," he said. "You got people running on the field who are drunk and saying crazy stuff to you. You have to get to the locker room the best way you can."
Copyright 2018 The Associated Press. All rights reserved. This material may not be published, broadcast, rewritten or redistributed. We strive to uphold our values for every story published.