Chicago — Five outs to go. Wrigley Field crowd on its feet. World Series within their grasp.
Then, it was almost as if the baseball gods woke up and realized these were the Chicago Cubs.
Those lovable losers blew it again thanks in part to -- of all things -- one of their own fans.
In a stunning eighth-inning turnaround, the Florida Marlins took advantage of left fielder Moises Alou's run-in with a fan on a foul fly and an error by shortstop Alex Gonzalez to score eight runs in an 8-3 victory Tuesday night, forcing the NL championship series to a Game 7.
"I don't know about the fan robbing them," Marlins manager Jack McKeon said. "I don't think that was the turning point of the game."
He might've been the only person in the ballpark who felt that way.
Mark Prior, Sammy Sosa and the Cubs cruised into the eighth with a 3-0 lead, set to end their 58-year absence from the World Series.
What followed was a sudden collapse that would rival anything in the Cubs' puzzling, painful past -- and the emergence of baseball's most infamous fan since Jeffrey Maier.
To add to the hurt, that fan who kept Alou from catching the ball hit by Luis Castillo and kept the rally going was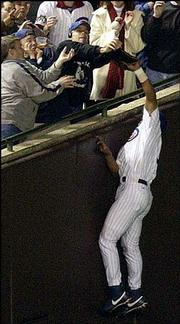 continued from page 1c
wearing a Cubs hat. Once the Marlins broke loose, people around the 26-year-old fan starting hurling beers in his direction and he was escorted out by security with a jacket over his face.
"You cost us the World Series!" one fan yelled at him.
Said Alou: "Hopefully, he won't have to regret it for the rest of his life."
Now, after the Marlins' second straight win in the series, it comes down to tonight. Kerry Wood will pitch for Chicago, while the Marlins will go with Mark Redman.
"It has nothing to do with the curse," Cubs manager Dusty Baker said. "It has to do with fan interference and a very uncharacteristic error by Gonzalez. History has nothing to do with this game, nothing."
The eighth inning began easily enough, with a flyout to Alou. But Juan Pierre doubled, and sheer disaster followed.
Castillo lifted a fly down the left-field line and Alou ran toward the brick wall, ready to do anything it took to make the catch.
Instead, the fan reached up for the ball -- not over the wall, though -- and deflected the ball away.
"I timed it perfectly, I jumped perfectly," Alou said. "I'm almost 100 percent that I had a clean shot to catch the ball. All of a sudden, there's a hand on my glove."
Left-field umpire Mike Everitt correctly ruled no interference. Unlike the 12-year-old Maier in the 1996 ALCS at Yankee Stadium, this fan did not reach over a wall.
"The ball was actually in the stands," Major League Baseball umpire supervisor Rich Rieker said. "The fielder goes in at his own risk. In this case, the fan did not reach out."
Alou slammed his glove in anger, and many fans in the crowd of 39,577 booed and began to pelt the man with debris.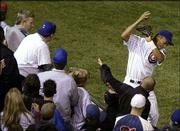 "The ball was in the stands, the umpire saw that," McKeon said. "I didn't think there was any interference."
Chicago fire fighter Pat Looney was seated next to the fan, whose identity was not released, and said there was no misconduct.
"It looked like it was out of play. Don't blame him," Looney said. "I should've pushed him out of the way. If I saw Alou coming, I would have.
"He wasn't leaning over. He was behind the rail, he didn't know Alou was coming," he said. "It looks like I touched the ball, but I didn't. I got 50 hate calls already. The firehouse where I work is being bombarded."
Added Marlins pitcher Carl Pavano: "Pray to God that guy's not a Cubs fan."
Castillo then walked, and the crowd sensed trouble brewing. Ivan Rodriguez hit an RBI single and Miguel Cabrera followed with a grounder in the hole that the sure-handed Gonzalez simply dropped for an error that loaded the bases.
Derrek Lee stepped up and hit a drive into the left-field corner, pumping his fist even before he reached first base, and the two-run double tied it.
Prior was pulled and Kyle Farnsworth came in and intentionally walked Mike Lowell to load the bases. With the crowd sitting in stunned silence and Prior blankly staring, Jeff Conine hit a go-ahead sacrifice fly.
Mike Mordecai broke it open with a three-run double off the wall in left-center, his shot hitting near a splash of red-and-orange ivy, and Pierre added an RBI single.
It had to be a haunting reminder for Baker. Last October, his San Francisco Giants took a big lead into the late innings of Game 6 of the World Series, and wound up losing the game and series to Anaheim.
Chad Fox got the win and Prior took the loss, although long-suffering fans in Chicago -- still waiting for the Cubs' first Series championship since 1908 -- will certainly blame the fan.
The Cubs have never clinched a postseason series at home, and had not even reached the World Series since 1945. Those droughts will continue for another day, and possibly a lot longer.
"We've just got to go out and play better ball tomorrow," Baker said.
Prior was dominant until the eighth, allowing until only three hits until then.
And once again, Kenny Lofton got the Cubs off to a fast start.
Lofton led off the first with a single, moved up on a sacrifice and scored his NLCS record-tying eighth run on Sosa's opposite-field double to right. That run gave the Cubs a 12-0 margin in the first inning of this series.
Sosa and Alou singled to start the sixth against Pavano. With two outs, reliever Dontrelle Willis threw a wild pitch that let Sosa scamper home.
Mark Grudzielanek made it 3-0 with an RBI single in the seventh.
Copyright 2017 The Associated Press. All rights reserved. This material may not be published, broadcast, rewritten or redistributed. We strive to uphold our values for every story published.