Kansas University officials said that a bizarre coincidence was to blame for an incident that left two students passed out and a third ill Tuesday morning in a chemistry laboratory.
But one of the students who lost consciousness said she still wondered whether a gas or something else in the lab caused the illnesses.
"It's hard to believe it's a coincidence," said Megan Weatherly, a junior from Overland Park.
Authorities were called to the second floor of Malott Hall about 8:30 a.m. Tuesday, after witnesses said Adam Yarnell, a sophomore from Wichita, passed out while working in a lab.
Weatherly said she passed out less than five minutes later. A third student also felt ill and left the lab.
Jason Sanders, the KU senior who is the teaching assistant for the general chemistry class, evacuated the 17 students from the lab.
Authorities from Lawrence-Douglas County Fire & Medical, the KU Public Safety Office and KU Environmental Health and Safety responded to the lab. The health inspectors, using chemical detectors, found no reason why the students became ill, said Mike Russell, director of Environmental Health and Safety.
"Our investigation didn't show any chemical release, smell, vapor, fumes -- anything," he said. "We didn't find anything in the space that would cause them to feel bad or faint."
He also said the chemicals being used in the lab -- potassium permanganate, iron chloride and phosphoric acid -- were "relatively benign" and wouldn't be a cause for students to pass out.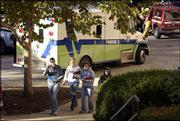 He said it apparently was a coincidence that the three students fell ill at the same time.
Russell said inspectors would continue to monitor the air in the lab.
The students were allowed to re-enter the lab within an hour of the initial call to authorities, but the remainder of the class was canceled for the day.
Russell said Sanders, the teaching assistant, handled the incident according to university policy.
"Apparently it was some weird coincidence," Sanders said. "But you'd think that would be a pretty small chance."
Copyright 2018 The Lawrence Journal-World. All rights reserved. This material may not be published, broadcast, rewritten or redistributed. We strive to uphold our values for every story published.