Two more wins would have made Free State's Senior Night spectacular.
Another loss would have spoiled the finale for four Firebirds at FSHS.
So Free State coach Nancy Hopkins said she would take the so-so celebration Tuesday, when the Firebirds sandwiched two losses around a spirited victory over Olathe North.
"Yeah, that was probably about an average Senior Night," said Hopkins. "But at times we played really, really well."
That would include a second-game comeback against O-North that forced Game 3, which the Firebirds won to take the match, 12-25, 25-21, 15-10.
"That was really awesome to win a match in the last time we'll play in this gym," senior hitter Kristin Baker said.
The Firebirds could have had more.
Right after Free State participated in its Senior Night celebrations, the Firebirds looked fired up against Shawnee Mission Northwest.
But a 9-3 lead quickly vanished when mental errors plagued the Firebirds (14-14), who were playing for the first time this season with all four seniors in their lineup.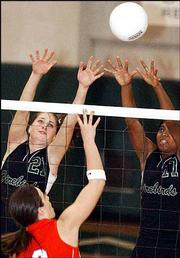 "Traditionally I let all the seniors start right after we announce them," Hopkins said. "We did that again, and it really seemed to be working well.
"But something happened, and it quit working quickly, and they came all the way back. We tried to sub in some of our normal starters to pull it out, but we couldn't."
While Free State seniors Baker, Jessica Carlyle, Jenny Gwaltney and Amy Jones played well most of the match, mistakes plagued them the remainder of both the first and second games against SM Northwest.
"We just made too many mental mistakes," said Gwaltney of her team's 25-23, 25-21 setback to the Cougars. "We stopped communicating and took ourselves out of it."
The Firebirds, who have a tournament left Saturday at Emporia and a quadrangular next week at Tonganoxie before sub-state starts, actually might have played their best match against Shawnee Heights.
Despite a 25-17, 25-18 loss, Hopkins said her team played well against the team she said could win the Class 5A title.
"That was probably the best match we've played of the season," said Hopkins, whose squad made a furious comeback in Game 2 before bowing. "We just have to take what we did well from that and carry it over next week."
Copyright 2018 The Lawrence Journal-World. All rights reserved. This material may not be published, broadcast, rewritten or redistributed. We strive to uphold our values for every story published.