There's some strange goings on out on the plains. Aside from the continued brilliance of Oklahoma and Texas Tech, the first two weeks of conference play in the Big 12 have been a little wacky.
How about Kansas State being 0-2 in the league? Texas A&M; losing by 31 points one week and winning by 63 the next? Kansas University shutting down Missouri but giving up 50 to Colorado?
Weird. And it starts with Kansas State, the preseason favorite in the Big 12 North.
The Wildcats were ranked sixth nationally in mid-September, but now they're out of the Top 25 after losing their second straight league game, 38-34 to Oklahoma State, and third overall.
"We don't seem to have the heart we used to have before," K-State defensive end Thomas Houchin said.
Still, there's hope for the Wildcats, who play their next three games at home. Both losses were to teams from the South Division, and the four leaders in the North -- Missouri, Nebraska, KU and Colorado -- all are 1-1.
Missouri remains an enigma. The Tigers looked downright mediocre in a 35-14 loss at Kansas. Then, with an extra week to prepare, Missouri rolled to a 41-24 victory over Nebraska and its top-ranked defense -- the Tigers' first win over the Cornhuskers since 1978.
"I told my wife the other night, 'I'm tired of watching other people upsetting people,'" Missouri coach Gary Pinkel said.
Now the challenge is to maintain it, and that will be tough. The Tigers play at No. 1 Oklahoma Saturday, then meet Texas Tech and its high-octane offense.
Colorado was humbled by a loss to Baylor a week ago, but bounced back to beat Kansas, 50-47 in overtime, and snap a three-game losing streak.
Baylor looked strong and confident against Colorado, then looked more like the league doormat they've usually been in a 73-10 loss to Texas A&M;, which had given up the most points in school history in losing to Texas Tech, 59-28, the week before.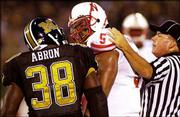 "We're trying to get our swagger back," A&M; safety Jaxson Appel said.
Oklahoma and Texas Tech both have plenty of that, and if things keep going the way they are, their Nov. 22 meeting at Lubbock could decide the South title. Who could have anticipated that?
Both teams are on big-time rolls. With its 65-13 shellacking of Texas, Oklahoma topped 50 points for the fourth straight game.
Texas Tech can't match the Sooners on defense, but the Red Raiders' offense is something else. They piled up 775 total yards and set a Big 12 record with 45 first downs in beating Iowa State, 52-21. Tech even rushed for 240 yards. Not bad for a passing team.
Copyright 2017 The Associated Press. All rights reserved. This material may not be published, broadcast, rewritten or redistributed. We strive to uphold our values for every story published.