Photographer: Richard Gwin
Camera: Nikon D1H digital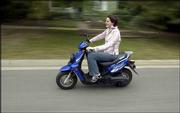 Lens: 17mm
ISO: 200
Shutter: 1/20
Aperture: 18
When I received an assignment to shoot pictures for a story about scooter, I thought of Peter Fonda and Dennis Hopper in "Easy Rider." They cruised on their Harley-Davidsons as the landscape panned behind them. I wanted to duplicate that feeling for the lead scooter photo.
So I asked Jim Baker, the reporter for the story, to drive my El Camino as I stood in the back. We drove alongside a young woman riding a scooter down a vacant street in east Lawrence.
I needed a clean background and, starting out with a slow shutter speed, I used an aperture of 18 and a 17mm lens on a Nikon D1H digital camera and used a Nikon SB-28 DX flash adjusted to a rear curtain flash. It still took a steady hand, but I was able to capture the motion of the scooter and its driver on about the fifth frame. The background blurred just perfectly.
---
"Behind the Lens" is an ongoing weekly series that features an image selected by the Journal-World photo staff that previously ran in the newspaper or online. Wondering how a certain picture was created? Nominate it for "Behind the Lens" by contacting chief photographer Mike Yoder at 832-7141 or myoder@ljworld.com.
Copyright 2018 The Lawrence Journal-World. All rights reserved. This material may not be published, broadcast, rewritten or redistributed. We strive to uphold our values for every story published.