Topeka — Hoping to convince a district judge to suspend Topeka Mayor Butch Felker from office, a prosecutor presented evidence Wednesday to suggest that Felker violated Kansas campaign finance laws.
Witnesses called to testify in Shawnee County District Court by Dist. Atty. Robert Hecht included employees of the state Governmental Ethics Commission, the treasurer of Felker's 2001 mayoral campaign and contributors to that campaign.
Hecht filed a lawsuit two weeks ago to remove Felker from office, but Hecht also wants Felker suspended while that lawsuit is heard. The hearing on Hecht's suspension request was expected to last three days because Hecht planned to call at least three dozen witnesses.
Hecht accuses Felker of falsifying a finance report from his 2001 campaign to mask questionable donations and contributors' identities. The state ethics commission fined Felker $7,500 in July.
Hecht also alleges that Felker improperly arranged $113,000 in payments to a former municipal employee and gave unlimited city spending power to a key official in a now-defunct museum.
"It is our position that the defendant has abused his office," Hecht told Judge Eric Rosen.
Defense attorney Mike Francis did not give an opening statement and declined to comment about the case, as did Felker.
Francis used his cross-examination of witnesses to suggest that Hecht's ouster petition was technically flawed and to raise questions about the seriousness of Felker's alleged campaign finance violations.
Francis also noted Felker's fine from the ethics commission resulted from an agreement Felker signed to settle the case, without Felker acknowledging any intent to commit wrongdoing.
Documents presented in court suggest that Felker whited out information in his finance report, then wrote in false information.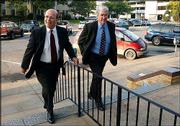 Hecht said the changes concealed the identities of donors who worked for the Topeka Convention and Visitors Bureau and Felker's receipt of more than $100 in cash from two donors. State law prohibits candidates from accepting more than $100 in cash so that contributions can be tracked more easily.
However, Linda Briden, a Convention and Visitors Bureau employee originally identified as a donor on Felker's campaign finance report before it was altered, testified that she never gave the mayor a contribution.
Briden also testified that she did not know why her name would have been listed if she made no donation. Hecht contends Briden did contribute $100 in cash.
The ouster attempt has led some residents to rally behind Felker and accuse Hecht of not being aggressive enough in prosecuting other cases. A group, Real Victims of Crime, has been formed to protest the ouster attempt.
Felker was the city's parks commissioner in 1975-85, then mayor from 1989 to 1997. He declined to run in 1997, citing health reasons, but won a third term in 2001.
Hecht alleges an agreement between Felker and former city Administrative Officer John Arnold paid Arnold for eight months after Arnold resigned in February 2002. Hecht contends there was no legal justification for the payments and that the City Council had not approved them.
Hecht also alleges that Felker -- again without the council's knowledge -- signed a "power of attorney" document in August 2001, giving Betty Simecka, president of Cultural Exhibitors and Events, the right to contract with the Kremlin museum in Moscow for an exhibition of Russian artifacts. Hecht contends Simecka could have obligated the city to spend $500,000 more.
Copyright 2018 The Associated Press. All rights reserved. This material may not be published, broadcast, rewritten or redistributed. We strive to uphold our values for every story published.