Morgan Rego is a firm believer in Lawrence's after-school programs.
The fifth-grader at Kennedy School likes the post-school snack and the recess for outdoor games. But he also appreciates time set aside each day for homework assignments and computer exercises.
"Computer time," the Kennedy fifth-grader said Wednesday. "That's the best."
Rego and hundreds of other Lawrence public school students could lose opportunities to linger at school if $300,000 isn't raised by the community to replace a federal grant that finances after-school programs at Pinckney, Woodlawn, Cordley and Kennedy schools.
"We'll have to secure a different funding source or discontinue," said Trudy Rice, chairwoman of a committee trying to figure out how to sustain the programs.
She said a solution to the funding problem needed to be found within six months.
The committee, which includes school district and community members, is considering a combination of new grants, private donations and student fees to fill the budget gap.
If all the money can't be raised, options include reducing services at existing sites or cutting the number of after-school programs.
"It's a puzzle to fit it all together," said Janet Murphy, executive director of the Boys & Girls Club of Lawrence.
Boys & Girls Club coordinates after-school programs at its headquarters and at five Lawrence elementary schools. The fate of those programs isn't directly tied to the four financed with a 21st Century Community Learning Centers grant.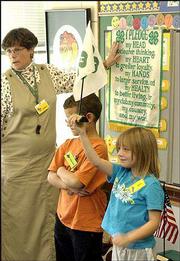 Rice, director of Douglas County K-State Research and Extension, said the committee planned to discuss possible solutions to the after-school budget woes. A "community conversation" will be from 6:30 p.m. to 7:30 p.m. Oct. 16 at the Extension Office, 2110 Harper St.
Rice said some people might not realize the value of exposing students to artistic, cultural, athletic and academic experiences in a safe environment.
For example, 4-H has a presence in several after-school sites. Under the Extension Office's program, children delve into life skills, leadership and public speaking activities.
"It allows us to provide them a quality experience," Rice said.
If no funding solution emerges, Murphy said, organizations involved in after-school programs will face tough choices.
"There are many options," Murphy said, "but none that make the quality of the programs better."
Nationally, surveys indicate a majority of youths 8 to 14 years old want to be in organized after-school activities. But less than half of them actually spend two or more hours in such a program.
The National Center for Juvenile Justice cautions that children are at greater risk of becoming involved in crime and substance abuse when left alone after school, and statistics show boys are more inclined to get into such activities when not supervised.
Kennedy sixth-grader Alex Whitethunder, who has been in after-school programs for three years, said demise of after-school programs in Lawrence schools would be a shock.
"I would just feel sad," she said.
Copyright 2018 The Lawrence Journal-World. All rights reserved. This material may not be published, broadcast, rewritten or redistributed. We strive to uphold our values for every story published.