Los Angeles — On his first full day as governor-elect, Arnold Schwarzenegger expressed confidence Wednesday that he would make a seamless transition to the governor's office, but provided no new specifics on how he plans to cure California's ills.
In a news conference at a Los Angeles hotel, Schwarzenegger said he had spoken with an array of leaders about his victory, including Nelson Mandela of South Africa and President Bush, who he said promised to do "whatever is possible to help California."
"I'm looking forward to working with him and asking him for a lot, a lot of favors," Schwarzenegger said, adding that he hoped to meet with the president when Bush is in the state next week for fund-raisers.
Schwarzenegger said he would make sure the federal government helps California with such problems as energy and water: "There's many things that we can do together."
Schwarzenegger broke little new ground during the news conference and reiterated many themes from the campaign trail, including a pledge to repeal the recent tripling of the car tax and a call to "open up the books" in search of a solution to the state's gaping $8 billion deficit. He also promised again not to raise taxes.
"We don't know exactly what the current operating deficit is," he said. "What we have to do is, open up the books ... do the audit and find what the waste is. And then we have to just go through step by step," the action hero-turned-politician said.
Schwarzenegger said he was promised "a very smooth transition" by ousted Gov. Gray Davis, and he received similar assurances from other state leaders. He will be sworn into the office by mid-November, becoming California's 38th governor.
The Republican actor also said he was hopeful that California lawmakers would see the message voters delivered in Tuesday night's election and follow his leadership as he takes over the reins of the state.
"The legislators up there have gotten this message last night, that the people of California want change," he said.
Schwarzenegger said his transition team is being headed by Rep. David Dreier, R-Calif., who was to give more details about the team today.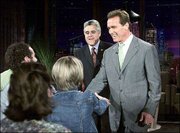 Copyright 2018 The Associated Press. All rights reserved. This material may not be published, broadcast, rewritten or redistributed. We strive to uphold our values for every story published.