An Oskaloosa High School graduate's "professionalism and dignity" earlier this year in standing up to a school newspaper censorship dispute earned her special recognition by the Douglas County chapter of the American Civil Liberties Union.
Lacey Hanson was presented with the Civil Libertarian of the Year award during the ACLU chapter's meeting Tuesday night at the Lawrence Public Library, 707 Vt.
"This is courage, and this why we recognize her," said Steve Lopes, the chapter's secretary-treasurer.
Hanson earned accolades as a student journalist with the Oskaloosa Insider, where she was working when she tangled with Principal Brad Reed.
The trouble began when Hanson wrote about plans to realign the high school teaching staff. Reed reviewed the story and told Hanson to rewrite it or the story would not be published. Hanson countered by taking her case to the school board and eventually gaining Oskaloosa Supt. Loren Lutes' permission to publish a version similar to the original.
The experience changed Hanson's life in many ways, she said Tuesday, including receiving letters of congratulations from people she didn't know.
"It really made me believe in myself," Hanson said. "It taught me to stand up for what I believe in."
The Civil Libertarian Award is not given every year, Lopes said.
"It's not very often," he said. "We give it to someone who is really, really worthy."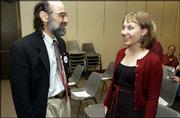 Hanson is now a freshman at the University of Missouri in Columbia, where she is studying broadcast journalism.
The ACLU gave a second award Tuesday to Allan Hanson, who is not related to Lacey Hanson, for his efforts since 1991 in coordinating the Lawrence Coalition for Peace and Justice.
The coalition has sponsored weekly anti-war protests and peace marches for more than year. It also has been involved in numerous similar activities under Hanson, who became coordinator in 1991 at the time of the first Persian Gulf War.
Copyright 2018 The Lawrence Journal-World. All rights reserved. This material may not be published, broadcast, rewritten or redistributed. We strive to uphold our values for every story published.