New York — Carleigh Krubiner is helping to usher in a new era for Avon Products Inc.
Since August, the University of Pennsylvania sophomore has become part of a new generation of "Avon ladies" peddling a new line called mark., featuring such products as blue liquid eyeliner and hot pink lip gloss in funky packaging aimed at her peers.
"I'm selling a lot of it in my dorm room," the 18-year-old Fairfield, Conn., resident said. As for the products, she said: "I truly love them. They're easy to throw in your bag ... I really like the lip glosses, and the packaging."
The 117-year-old Avon, which began by selling cosmetics door to door to the middle-American woman, is re-creating direct selling for the 16-to-24 age group. So far, the reception has been strong, company officials said, but the challenge was whether the strategy would be compelling enough to woo young women away from other brands in a competitive business.
Good timing
Some marketing experts believe Avon's timing is right.
"You would have never thought of the Avon lady as cool. But for the teen community, the sense of gals marketing to other gals -- this whole tribal marketing -- is very timely at the moment," said Wendy Liebmann, president of WSL Strategic Retail, a consulting firm.
Avon has periodically offered beauty items for teens, but this is the first time it has developed a specific brand for this age group. The company is counting on its network of 550,000 active U.S. Avon representatives to recruit their teenage daughters and other young women expected to do most of the selling of the 300 products.
Krubiner found out about mark. through a cousin, who works at Avon's corporate headquarters in New York.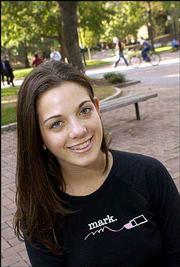 Deborah Fine, president of Avon Future, a new division that serves as the umbrella for mark., projects that the line will generate $100 million in sales in 2004, the first full year of the launch. The brand is slated to be rolled out overseas in late 2004.
Avon had overall sales of $6.23 billion last year, compared with $6 billion in the previous year.
The company aims to take teenage business away from mass merchandisers, department store chains and smaller retailers. The big chains in particular have been pursuing the teen customer with trendier beauty items -- Wal-Mart Stores Inc., for example, has brought out a Mary-Kate and Ashley cosmetics line, named after the teenage TV celebrity Olsen twins.
Selling point
While Avon's representatives sell cosmetics at their home or where they work, these mark. representatives are selling through more informal settings: slumber parties, sororities and campus events.
"This is a portable retail environment that fits seamlessly into the way young women live and shop today," Fine said.
However, selling is not limited to the mark. representative; current Avon representatives also can sign up to sell the new line.
Avon's launch of mark. is the company's latest attempt to reach out to new customers.
The company made an unsuccessful try at retailing with a line of beauty products called beComing, sold in JC Penney Co. Inc. and Sears, Roebuck and Co. stores. Last year, Sears dropped out, followed by Penney's in January -- both cited their overall strategy to exit from cosmetics.
BeComing is now sold directly through Avon representatives.
Fine said there were no plans to sell mark. in stores.
The line includes different varieties of lip gloss, eye shadow, nail polish, fragrance and accessories. The mark. products range from $5 lip gloss to $25 for 30 milliliters of a fragrance called Garden Blu fragrance.
Accessories include $15 denim hats and a $30 patchwork denim bags.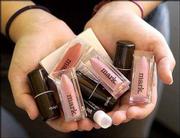 At the start of the launch, mark. already had 14,000 people registered that either wanted to buy or sell the brand.
To recruit sales people and to pitch products, Avon is printing 13 million to 16 million new editions of its mark. "magalog" every four to six weeks that representatives pass out in malls and other venues. The magalog is a blend of magazine content and a catalog.
Fine said Avon hoped to give young women an opportunity to run their own business and become successful at it. She said she was confident the commission structure was lucrative enough to attract teens, particularly now given the difficult job market.
Sellers can earn 40 percent sales commission for beauty products and 25 percent on fashion accessories. Opportunities to earn college credit also are available.
Copyright 2018 The Associated Press. All rights reserved. This material may not be published, broadcast, rewritten or redistributed. We strive to uphold our values for every story published.