Seattle — George Gordon spent most of his life thinking he had lost his entire family in the Holocaust.
But he couldn't shake a lingering sense of uncertainty -- or the haunting dreams.
"I'd see my mother and sister in my sleep and wake up thinking, 'No, I can't believe they are dead,'" the 77-year-old Polish immigrant said. "It stays with you, if you don't know for sure. You can't let it go."
Then a volunteer for the American Red Cross Holocaust and War Victims Tracing Service stepped in and discovered something Gordon never expected to find: His sister.
Gordon, born Jerzy Budzynski, had contacted the group hoping to discover how his family died.
"He was looking for graves. He never was looking for living people," said volunteer Tammy Kaiser. "The only reason he even began searching was just to find out where they were buried so that one day he could visit and pay his respects."
The tracing center, based in Baltimore, has handled requests from about 40,000 Americans, combing through war records released after the dissolution of the Soviet Union. It forwarded Gordon's request to the agency's International Tracing Service in Arrolsen, Germany.
The Polish Red Cross got involved, and Kaiser, on her own trip to Poland with a Jewish student group, made a detour to Gordon's former hometown, Wroclaw, searching for his family's graves. She found nothing.
After 18 months, Polish researchers finally discovered a simple newspaper obituary. It described Gordon's mother, Janina. It was dated 1979, and it mentioned only one survivor, a daughter, Krystyna.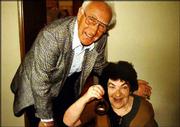 "I couldn't believe it when I heard," Kaiser told the Seattle Post-Intelligencer. "I cried for like 10 minutes. Then we called George."
Gordon was sent at age 14 on a boxcar to Stuthoff, a Polish-only work camp, and then to Buchenwald, where he spent the rest of the war. His father and younger brother were shot dead by SS soldiers.
Only when speaking of the night he heard his sister's voice for the first time in 59 years did his voice waver.
"Krystyna, this is Jerik," he said, using his childhood nickname in a phone call to Poland.
There was a long silence. Neither knew quite what to say.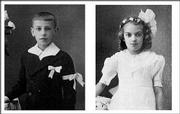 On Sept. 26, they were reunited in the lobby of the Hotel Monopol in Wroclaw, where Hitler had once shouted speeches from the balcony.
"These two women walked in, my sister and her daughter," Gordon said. "I wouldn't have recognized her if we'd passed each other on the street -- to me she was always a 12-year-old girl -- but when I heard her voice, I knew it was her."
Copyright 2018 The Associated Press. All rights reserved. This material may not be published, broadcast, rewritten or redistributed. We strive to uphold our values for every story published.