After a one-year hiatus, Wheat State Whirlwind tour buses will roll through Kansas again next year.
The tour, which has aimed -- since its inception in 1997 -- to introduce new Kansas University faculty and staff to the state of Kansas, was canceled this year because of budget concerns.
"We realized there is a really strong desire among faculty to have it continue," Janet Murguia, executive vice chancellor for university relations, said Wednesday. "It's important to give faculty and staff the opportunity to see and better understand the state."
Murguia said the tour would cost between $15,000 and $20,000. She said private funds would cover about two-thirds of the cost, with the rest coming from state funds.
She said the state money was cobbled together from other savings in her department.
Next year's tour, for 35 faculty and staff, will be May 21-28. Margey Frederick, director of visitor services and special events, and Don Steeples, geology professor and vice provost for scholarly support, will lead the tour.
KU opened applications for the program last week. About 30 people already have applied.
Scheduled tour stops include Lewis and Clark expedition sites in Atchison and Leavenworth; a working oil rig near Liberal; a buffalo herd in Logan County; a wheat farm near Palco; a multilingual elementary school in Garden City and the Grass Roots Art Center in Lucas.
"It's an important tool for the university," Murguia said. "We want to expose faculty to Kansas, and give Kansans a chance to learn about KU. When it's a win-win situation, it makes sense to continue it."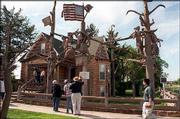 Copyright 2018 The Lawrence Journal-World. All rights reserved. This material may not be published, broadcast, rewritten or redistributed. We strive to uphold our values for every story published.