Washington — For the first time in nearly four decades, Congress is poised to approve a historic expansion of the Medicare program, providing prescription drug coverage for 40 million senior citizens and the disabled.
The Senate defeated two procedural votes designed to block the legislation Monday, proving that Republican sponsors have the numbers to send the bill to President Bush's desk. The House passed the $395 billion measure in a nail-biting three-hour 220-215 vote just before dawn on Saturday. The Senate is expected to cast its final vote on passage this morning.
"Today is a momentous day and a historic day," said Senate Majority Leader Bill Frist, R-Tenn., the chamber's only doctor.
The bill creates a discount drug card beginning in 2004, followed by a comprehensive drug benefit beginning in 2006, but it effectively prohibits the purchase of cheaper drugs abroad. The legislation also creates a pilot program to let private insurers compete against Medicare in six cities, and it allows individuals to establish tax-reduced savings accounts to pay for medical expenses.
The final vote will provide Bush with a major domestic victory and bragging rights on the campaign trail. Although he largely stayed out of the GOP congressional negotiations that produced the bill, Bush heavily lobbied reluctant Republicans to support the House-Senate compromise.
Unlike the partisan House vote, many Democrats in the Senate agreed to support the bill Monday, despite opposition by Senate Minority Leader Tom Daschle, D-S.D., Sen. Edward M. Kennedy, D-Mass., and the Senate's three presidential candidates who returned from the campaign trail to vote against the bill.
"There's a reason why so many seniors are calling my office urging me to vote against this bill," said Sen. Dick Durbin, D-Ill. "The prescription drug benefit is very complicated, and there's no effort in this bill to reduce drug costs for seniors or anyone else. Their biggest concern and mine is (that) it's going to force seniors out of Medicare and into HMOs. I think that will be disastrous for seniors and Medicare."
"The Senate is on trial," thundered Kennedy, who voted to create the Medicare program 38 years ago. "Let us not reverse the historic decision our country made in 1965. Let us not turn our back on our senior citizens so that insurance companies and pharmaceutical companies can earn even higher profits."
Senators voted 70-29 to cut off Kennedy's filibuster of the bill. When Democrats tried to kill the bill by raising a budgetary objection, the Senate -- needing 60 votes to continue -- voted 61-39 to waive all objections.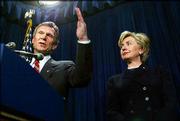 Copyright 2018 The Lawrence Journal-World. All rights reserved. This material may not be published, broadcast, rewritten or redistributed. We strive to uphold our values for every story published.