Boston — With or without their two top scorers, the New York Knicks know how to rally against the Boston Celtics.
They did it Monday night with Allen Houston and Keith Van Horn sidelined, winning 94-88 after trailing by 10 points at halftime. One week earlier, the two standouts played major roles as the Knicks beat the Celtics after trailing by 16 at intermission.
The key, said New York forward Clarence Weatherspoon, is to shoot the ball when the opportunity is there.
"When you're short-handed, you just have to feel confident enough to let it go," he said. "We did some things that led to easy baskets and put them on their heels."
Shandon Anderson led the Knicks with a season-high 28 points. Dikembe Mutombo had four blocks, moving him into fifth place with a career total of 2,896, two more than former Knick Patrick Ewing, who preceded him at Georgetown.
"He'll be the first man I'll call," Mutombo said. "It's a nice commentary on my career."
One week earlier, Houston and Van Horn combined for 47 points as the Knicks came back to beat the Celtics 89-86 in New York. Van Horn had 13 points in the third quarter when the Knicks trimmed a 54-38 halftime deficit to 72-66.
But Monday, Houston missed his second straight game because of a sore lower back, and Van Horn, missed his fifth in a row because of a sprained right ankle.
The Celtics also blew a 51-42 halftime lead last Friday and lost in Philadelphia 87-85.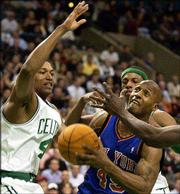 "We go into the locker room saying we have to pick it up," Boston forward Vin Baker said, "and, behold, we come out in the third quarter and it slips away. It may be we're thinking too much about it."
Mutombo had 13 points and 12 rebounds, while Kurt Thomas added 15 points and 11 rebounds and Howard Eisley scored 14 points. For Boston, Paul Pierce, a Kansas University product, and Baker scored 16 each.
The Celtics' troubles intensified when Pierce went to the bench with four fouls with 8:29 left in the third quarter. Boston led 54-50 at the time but was outscored 25-9 as Pierce sat out the rest of the period. Anderson had 10 points in the quarter.
"Right now I'm not restricted on offense. I've been able to get my shots," Anderson said. "Our defense was what allowed us to come back."
Pierce returned to start the fourth, but New York led 75-63 by then.
"They can't always depend on me," Pierce said. "When a team starts to push us we don't push back and we've got to play with some toughness. Right now I think we are one of the softest teams in the league."
Monday, the Knicks broke a four-game losing streak in Boston with their second win in seven road games this season.
"We challenged over 50 percent of the shots in the first half and then only 34 percent in the second half," Boston coach Jim O'Brien said. "I thought we got down on ourselves a little bit when they came back and took the lead."
Pacers 89, Magic 78
Orlando, Fla. -- Jermaine O'Neal had 22 points and 19 rebounds, and Indiana handed Orlando its 13th straight loss. Ron Artest added 17 points and Austin Croshere scored 13 of his season-high 15 in the second quarter to help Indiana extend its winning streak to five games. Orlando is four losses short of tying its franchise-worst losing skid. That stretch was set in 1991-92, the season before the Magic drafted Shaquille O'Neal.
Pistons 94, Hawks 89
Atlanta -- Chauncey Billups made four straight free throws in the final 18.3 seconds and finished with 24 points for Detroit. Sunday, Billups missed two foul shots with seven seconds remaining in Detroit's 81-80 home loss to New Orleans. Tayshaun Prince added 22 points for Detroit, and Ben Wallace had 15 rebounds. Shareef Abdur-Rahim had 26 points and 14 rebounds for Atlanta.
Rockets 105, Clippers 90
Los Angeles -- Yao Ming scored all 18 of his points in the first half and reserve Maurice Taylor had 11 of his 17 points in the fourth quarter in Houston's victory. Steve Francis, held to four points in Houston's loss Friday night at Portland, finished with 19 points and nine assists to help the Rockets tie Dallas for first place in the Midwest Division. Corey Maggette scored a season-high 33 points for the Clippers, who missed 11 of their first 12 shots and finished with a field- goal percentage of 34.1 against the league's top defense. Los Angeles has lost four in a row following a four-game winning streak.
Copyright 2018 The Associated Press. All rights reserved. This material may not be published, broadcast, rewritten or redistributed. We strive to uphold our values for every story published.